Graduates kick start their career at Dounreay
Graduates from as far afield as Portugal and London arrived in Caithness this week to kick start their career at Dounreay.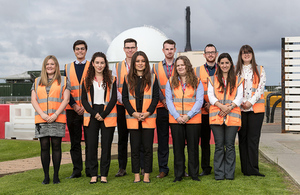 Ten new recruits have started on the 2-year graduate scheme with educational backgrounds as diverse as engineering, law and digital forensics and ethical hacking.
Chief Nuclear Officer Steve Beckitt said:
"Graduates are an important part of the site's future as they bring new expertise to help us progress our decommissioning programme. They start their introduction to the site with a comprehensive safety induction before beginning work in their new teams next week."
Stacey Fry, a digital forensics and ethical hacking graduate from Caithness, said:
"Working at Dounreay is a unique opportunity to do a job which interests me and allows me to be close to home."
Andrew Gibson, a chemical engineering graduate who studied in Aberdeen, added:
"This is an exciting opportunity to use what I have learned as part of my degree in a unique industry where I can solve technical challenges."
Once the United Kingdom's centre of fast reactor research and development, Dounreay is now being decommissioned. The skilled workforce is delivering a varied programme incorporating construction, demolition and waste management projects.
Published 10 August 2017