Press release
Graduate opportunities at Highways England
Highways England launches a range of opportunities for graduates.
This news article was withdrawn on
This document is no longer current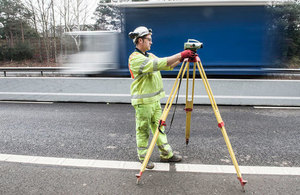 England's roads could be the route to success as Highways England launches a range of opportunities for graduates looking to design, build, maintain and improve the country's infrastructure.
The new influx of jobs is part of Highway's England's commitment to recruit, develop and retain talented graduates, which aims to help the organisation deliver projects as part of its major investment transforming England's road network.
San Johal, Human Resources Director at Highways England says:
This is an exciting time to be part of the team Highways England. By 2021, we will have delivered £15billion investment in our motorways and A roads to keep road users and businesses moving, underpinning economic growth.

To do this, we are investing in the next generation of future project managers, engineers and other technical specialists. We're encouraging anyone considering a graduate programme to visit our website and explore the opportunities to start a fantastic career with us.
Roles including project managers, civil engineers and quantity surveyors are now open for applications and will lead to opportunities across Highways England's nationwide offices, including Manchester, Leeds, Birmingham, Bristol, Bedford and Guildford.
New recruits will be helping to play a part in modernising England's motorways and major roads by developing and delivering technically advanced projects including the A14 Cambridge to Huntingdon, and in the next roads period, schemes such as the Stonehenge Tunnel and Lower Thames Crossing.
Highways England are also working in alliance to support the government's goal of creating 30,000 apprenticeships in road and rail, by 2020 and are expecting to have a new tranche of positions opening later this year.
The latest apprenticeship and graduate opportunities at Highways England are below and on the company's recruitment website. Many more opportunities will be available throughout the year and interested applicants can sign up for e-mail alerts.
Current graduate roles:
Human resources (Birmingham)
Civil Engineer (Birmingham, Bedford, Manchester)
Quantity Surveyor (Birmingham and Leeds)
Project Manager (Bristol, Bedford and Guildford)
General enquiries
Members of the public should contact the Highways England customer contact centre on 0300 123 5000.
Media enquiries
Journalists should contact the Highways England press office on 0844 693 1448 and use the menu to speak to the most appropriate press officer.
Published 22 August 2016