World news story
Governor welcomes Constitutional Review
The review of the Turks and Caicos Islands (TCI) Constitution was welcomed by Governor Peter Beckingham today, Wednesday, 17 August 2014.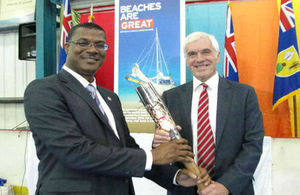 His remarks came the day after the first public 'town hall' meeting on the Islands' capital Grand Turk was convened by the Constitutional Review Committee chaired by Daniel Malcolm.
Beckingham said:
I am very pleased that Islanders have this opportunity to have their say about the Turks and Caicos Islands Constitution Order 2011.

I would encourage everyone to attend the public meetings on this very important subject to ensure that they have the opportunity to make their input, and I look forward to receiving the report in due course.
The Committee welcomes private meetings with Churches, Civic Groups and other associations. Appointments can be made with the Commission by contacting Tracey Parker, on +1 649 338-3759, or +1 649 232-1472 or emailing tiparker@gov.tc.
The Committee invites and welcomes written submissions before its deadline of Tuesday, 30 November 2014. Submissions can be emailed to: tcicrc2014@gov.tc, tcicrc2014@gmail.com, or hardcopies dropped off at the House of Assembly, Grand Turk, the Office of the Premier, Hon. Hilly Ewing Building, Providenciales or the District Commissioners' Offices throughout the Islands.
The Committee is required to complete all consultation and to produce a final report by Saturday, 15 November 2014.
The committee members are chairman Daniel Malcolm, secretary Tracey Parker, Don Hue Gardiner, Akierra Missick, Sharlene Cartwright Robinson, Sean Astwood, Carlos Simons and Ashwood Forbes.
The schedule for the Commission's remaining public meetings is as follows:
Salt Cay – Wednesday, 17 September 2014 - 10:00 a.m. at the Salt Shed

Providenciales – Thursday, 18 September 2014 - 6:30pm Public Meeting Gustavus Lightbourne Sports Complex

South Caicos – Thursday, 25 September 2014 - 6:30pm at the Regatta Village

Bottle Creek, North Caicos – Tuesday, 30 September 2014 - 6:30pm – Adelaide Omeler Primary School

Middle Caicos – Wednesday, 1 October 2014 - 10:00am – Middle Caicos Community Centre

Kew, North Caicos – 1 October 2014 - 6:30pm at the Hubert James Primary School
Published 17 September 2014