World news story
Governor Kilpatrick arrives
Mrs Kilpatrick arrives in Cayman on 6 September 2013 and is sworn in as the 12th Governor of the Cayman Islands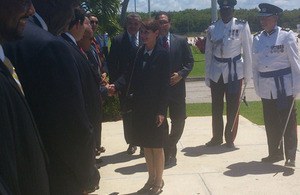 There is a new Governor of the Cayman Islands. Mrs Helen Kilpatrick CB arrived at 11.15am on Friday 6 September on a Cayman Airways flight from Miami, Florida. She was met at Owen Roberts International Airport by Acting Governor Franz Manderson, Premier Alden McLaughlin, members of Cabinet and Governor's Office staff. On arrival, she was presented with a basket of mangoes and guineps from boy scout Juan Pablo Valerio.
After a light lunch at Government House, she then went to the Legislative Assembly where she was sworn in as the 12th Governor of the Cayman Islands. In her acceptance speech she committed to "well and truly serve the people of the Cayman Islands". She recognised that she had a great deal to learn. Her priority would be to get around all of the districts, and the Sister Islands, as soon as possible, to get to know the people of the Cayman Islands, to find out what they aspire to and what causes them concern. She also thanked Deputy Governor Franz Manderson for discharging his duties as Acting Governor in an exemplary manner.
On Friday evening, the Deputy Governor and the Premier hosted a reception in Mrs Kilpatrick's honour at Pedro St James. Mrs Kilpatrick was able to meet many local people and to sample some fine Caymanian food.
Prior to being appointed Governor, Mrs Kilpatrick worked at the Home Office as the Director General for Finance and Corporate Services. For a period during 2012 and 2013 she was the acting Home Office Permanent Secretary and Accounting Officer. She also has extensive experience working in local government, most recently in West Sussex County Council as Deputy Chief Executive and Director of Resources, where she was also Treasurer of the Sussex Police Authority, and for a number of London Borough Councils. Mrs Kilpatrick is a chartered accountant, and a member of the CIPFA Council. She is also a Board and Finance Committee Member of Chichester Festival Theatre.
Published 9 September 2013