World news story
Governor honours young Falklands school leavers
Reception held for Year 11 students from the Falkland Islands Community School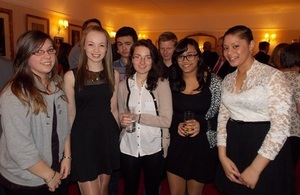 The Governor has hosted a reception for outgoing Year 11 students from the Falkland Islands Community School.
The students are awaiting the results of their final exams before taking up work placements in the Islands or heading off to colleges overseas.
In a short speech to the students, their parents and staff, Governor Colin Roberts wished the Year 11 group well over the coming months: "It's a difficult and exciting period, you won't all yet know where you're going to be and what you'll be doing in September; whatever it is, I'm sure it'll be interesting and exciting."
To those hoping to attend A Level or vocational colleges in the UK and elsewhere, he made a specific request, encouraging them to tell people about the Falkland Islands: "There will be opportunities where people may invite you to give a presentation or attend an event or to join your MLAs when they are travelling. I know you are very proud of the Falkland Islands so I hope that some of you will take up those opportunities and be ambassadors for the Falkland Islands in the future. Please tell the world about the Falkland Islands."
Head Teacher of the Falkland Islands Community School, Mr Martin Winward, said the Year 11 students had "huge ambitions" in terms of what they wanted to achieve. He said the event hosted by the Governor, one of a number of functions held in honour of the students, was a sign of the importance the Falklands placed on its young people.
Click here for more images from the Year 11 reception.
Published 8 July 2014