News story
Government's high-end television tax relief tempts ABC Studios to British shores
American television company to begin producing new pilot programme in early 2014.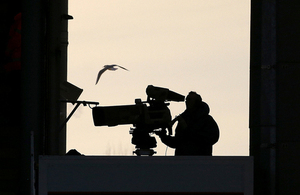 ABC Studios has chosen the UK as the location to film a new pilot programme, following the government's introduction of a high-end television tax relief earlier this year.
With production planned for early 2014, this will be the first pilot programme produced by the American company in the UK since the tax relief was introduced in April 2013. They also plan to recruit roughly 150 cast and crew from the UK to work on the programme.
Written, created and executively produced by Dan Fogelman (Crazy Stupid Love, Cars and Tangled) Galavant will be a musical comedy fairytale.
Production will take place in a number of locations in the UK with Alan Menken writing the music, and Glenn Slater writing the lyrics. The trio recently collaborated on a musical episode of ABC's The Neighbors, earning the programme its first Emmy nomination for the series.
Chancellor George Osborne said:
I want our creative industries to be the best in the world and to showcase the talent that we have here in Britain. That's why I'm pleased ABC has decided to bring this production to the UK; it is a clear demonstration of the value placed on British expertise.
This government wants to make sure high-end television programming from all over the world is made in the UK. These productions bring jobs and investment to our country. That's why i introduced a specific tax relief to encourage more of them here in the UK.
I want more global companies like ABC to look to the UK as a highly skilled, innovative and creative industry when choosing a location for their television programming.
Supporting the creative industries, and the cultural contribution they make to the UK, the government has built on the existing film tax relief and introduced reliefs for high-end television, and animation. Subject to State Aid approval, it will also be introducing a relief for the video games industry.
To qualify for the high-end television tax relief, programmes must be longer than 30 minutes and have a 'per programme hour' budget of £1 million or more. At least 25% of the total production costs must relate to activities in the UK and they will also be required to pass a cultural test which is certified by the Department for Culture, Media and Sport (DCMS).
Image by PA/Scott Heavey/EMPICS Sport.
Published 20 December 2013