Press release
Government's ban on consultancy charges in automatic enrolment pensions takes effect
New legislation to ban consultancy charges in automatic enrolment schemes in force from 14 September 2013.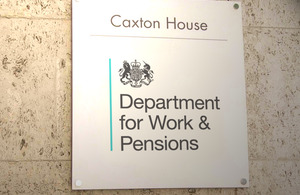 New legislation to ban consultancy charges in automatic enrolment schemes comes into force from tomorrow (14 September 2013).
Steve Webb, Minister for Pensions, has signed new regulations into law to give greater protection to pension scheme members.
In May the government announced the results of its review of consultancy charges and its intention to act to crack down on inappropriate charges.
Minister for Pensions Steve Webb said:
My job is to make sure people get better pensions. So when people put hard-earned cash into a pension I am determined to make sure it doesn't get gobbled up by charges. This ban will make the system fairer for anyone being automatically enrolled into a workplace pension.
The new law affects defined contribution schemes qualifying for automatic enrolment. It means an employer cannot receive advice under an agreement with a third party, other than a trustee, provider or scheme manager, and pay for that advice out of the members' pension pots or contributions.
The government will also consult in the autumn over whether it should extend the ban to cover a small number of schemes which already had an agreement in place before 10 May – when the Minister announced that he intended to ban consultancy charges.
More information
Consultancy charges were introduced to replace commission by enabling employers to pass on the costs of advice to the members who join the pension scheme.
Between November 2012 and May 2013, the government carried out a review of consultancy charges which found that existing measures to prevent advisers deducting high charges from members' pension pots were inadequate. It also found that consultancy charges can have a disproportionately negative impact on people who move jobs regularly.
A broad consensus emerged during the review that consultancy charges posed a significant risk to the consumer and there was widespread support in Parliament for the government's decision to ban them.
On 1 January 2013, the Retail Distribution Review (RDR) banned pension providers from paying commission to advisers on all new Group Personal Pensions.
Press Office
Caxton House
Tothill Street
London
SW1H 9NA
London Press Office (national media and London area enquiries only – not questions about personal claims) 020 3267 5144
Out-of-hours (journalists only) 076 59 108 883
England and Wales (local media enquiries) 029 20 586 then 097 or 098 or 099
Scotland (local media enquiries) 0131 310 1122
Media enquiries for this press release 0203 267 5116
Follow us on Twitter www.twitter.com/dwppressoffice
Published 13 September 2013