News story
Government welcomes Lord Davies report 'Women on Boards'
The study suggests that companies should publish the number of women sitting on their boards and working in their organisations and recommends…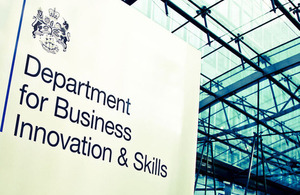 The study suggests that companies should publish the number of women sitting on their boards and working in their organisations and recommends that businesses in FTSE 350 companies should set their own targets for increasing female representation on their boards by 2015. He suggests that the FTSE100 should challenge themselves to increase the proportion of female directors on their boards to 25% by 2015.
Business Secretary Vince Cable said:
---
"I strongly welcome Lord Davies' report and am committed to promoting gender equality on the boards of UK listed companies. We will therefore seriously consider its recommendations.
"The report is clear that a business-led approach is the best way to increase the number of women on company boards, and we will therefore engage with business in considering his recommendations. Likewise we encourage regulators, investors and executive search firms to take forward those recommendations that fall to them."
Home Secretary and Minister for Women and Equality Theresa May said:
---
"Inclusive and diverse boards benefit from fresh perspectives, new ideas and broad experience. A company with a board that reflects the people it serves is better able to understand its customers, and there is growing evidence that companies with more women on their boards outperform their male-dominated rivals.
"Women make up more than half of the population, but account for just 12.5 per cent of FTSE 100 directors. Lord Davies' report is an important step forward in understanding why this is and what can be done about it, and I shall be considering his findings very carefully."
In his report Lord Davies also recommends:
Recognising the key role investors play in engagement with boards; they should play close attention to the recommendations from the report when considering re-appointments to a company board;

companies should disclose information on the number of women sitting on their boards and working in their organisations, as well as the company's appointment processes and how this addresses diversity;

headhunting firms should draw up a voluntary code of practice addressing gender diversity in relation to board level appointments to FTSE 350 companies.
Notes to editors
Lord Davies report, 'Women on Boards' and the panels recommendations can be seen here: http://www.bis.gov.uk/news/topstories/2011/Feb/women-on-boards

BIS' online newsroom contains the latest press notices, speeches, as well as video and images for download. It also features an up to date list of BIS press office contacts. See http://www.bis.gov.uk/newsroom for more information.
TERMS OF REFERENCE FOR MERVYN DAVIES REVIEW
To consider options for promoting gender equality on the Boards of listed companies. In doing so to consider the obstacles to women becoming directors of listed company boards including looking at existing research about women on listed company boards and recent developments in international practice and to make proposals on what action should be taken to improve the position.
It should involve interested parties including Board members, executive search firms, investors and other interested parties in considering proposals for change.
The business strategy will be presented jointly to the Secretary of State for Business, Innovation and Skills and the Minister for Women and Equalities. The business strategy should deliver a set of recommendations with supporting material outlining the thinking behind the recommendations and the views of key interested parties.
Notes to Editors
Contact Information
Name BIS Press Office Job Title
Division COI Phone
Fax
Mobile
Email NDS.BIS@coi.gsi.gov.uk
Name Josh Coe Job Title
Division Department for Business, Innovation and Skills Phone 020 7215 5943 Fax
Mobile
Email Josh.Coe@bis.gsi.gov.uk
Published 24 February 2011