News story
Government welcomes interim report on professionalism in the further education sector
The review, chaired by Lord Lingfield, was announced at the AoC conference in November and has been looking at the current arrangements to regulate…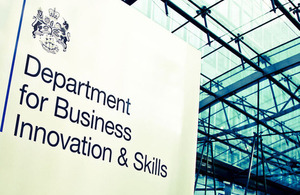 The review, chaired by Lord Lingfield, was announced at the AoC conference in November and has been looking at the current arrangements to regulate and facilitate the professionalism of the FE and skills workforce.
As a result of the recommendations, the Government will set in motion a formal process of consultation with the view to taking away the statutory obligation for teachers to register with the Institute for Learning (IfL). The Government will work with sector bodies, the IfL and other organisations directly affected by the review's recommendations, before making a more detailed statement on its response and plans for implementation.
A final report, which will consider professionalism more widely, will report in the Summer.
The main recommendations from the interim report are:
Continued phasing out of state grant funding to the IfL, with support for professionalism among FE staff to be provided by the Learning and Skills Improvement Service (LSIS) from September 2012

The last increment of transitional funding for the IfL should be used to refund part of the second year of fees paid by FE staff

Revocation of The Further Education Teachers' Continuing Professional Development and Registration, England Regulations _and The Further Education Teachers' Qualifications, England, Regulations_, replaced_ _with largely discretionary advice to employers on appropriate qualifications for staff and continuous professional development

Simplification of and re-naming the in-service teaching qualifications

An appropriate government body should take on responsibility for keeping a register of staff who have been found guilty of gross misconduct by the authorities, so that they may be excluded from future employment in the FE sector.
Mr Hayes said:
"I want to thank Lord Lingfield and the panel for their insightful report, which sets out a compelling vision for elevating the status of the further education workforce.
"Moving away from an approach that enforces professionalism through regulation, to one that gives colleges and providers the freedom to decide how best to achieve high standards of teaching and learning is consistent with our policy of giving colleges freedom and power. It is also important that we empower staff to take responsibility for their own professional development - supported where they choose by voluntary professional body membership.
"With the benefit of this interim report, we can take the necessary steps to ensuring further education professionals are at the forefront of teaching excellence."
Notes to Editors
---
The interim report can be found in full at; http://www.bis.gov.uk/assets/biscore/further-education-skills/docs/p/12-670-professionalism-in-further-education-interim.pdf

The panel comprised:
The Lord Lingfield Kt DL__
David Sherlock CBE (Director, Beyond Standards Limited and former Chief Inspector of Adult Learning for England)
Dawn Ward OBE (Chief Executive and Principal, Burton and South Derbyshire College)
Dan Wright (Chief Executive, First 4 Skills Limited)
BIS's online newsroom contains the latest press notices, speeches, as well as video and images for download. It also features an up to date list of BIS press office contacts. See [http://www.bis.gov.uk/newsroom](http://www.bis.gov.uk/newsroom) for more information.
Notes to Editors
Contact Information
Name BIS Press Office Job Title
Division COI Phone
Fax
Mobile
Email NDS.BIS@coi.gsi.gov.uk
Name Victoria Heath Job Title Ms Division Department for Business, Innovation & Skills Phone 020 7215 5950 Fax
Mobile
Published 27 March 2012