Press release
Government welcomes first injection into Pensions Infrastructure Platform
The Chief Secretary welcomes first injection into Pensions Infrastructure Platform.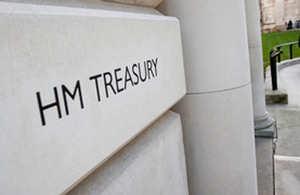 The Chief Secretary, Rt Hon Danny Alexander MP, has welcomed the progress by the National Association of Pension Funds (NAPF) and the Pension Protection Fund (PPF) in securing a critical mass of Founding Investors needed to move to the next stage of development.
NAPF and PPF today announced that several major UK pension funds have signed up to the Pension Infrastructure Platform (PIP). The intention is that the Founding Investors will provide around half of the target £2 billion of investment capital for the fund, before it launches early next year.
The Government, the NAPF and PPF signed a memorandum of understanding to create the PIP last year. It forms part of plans to encourage up to £20 billion of private sector finance for UK infrastructure over the next decade announced at the Autumn Statement 2011. These plans remain on track.
The Government has worked closely with NAPF and PPF to support the foundation of the PIP, which will provide pension schemes with the expertise and tools needed to make long-term investments in UK infrastructure.  With these Founding Investors on board, work will now start on recruiting adequate resource and further developing the PIP in time for its launch in early 2013.
Danny Alexander said:
The NAPF and PPF have made excellent progress on delivering a unique vehicle for pension funds to invest in our infrastructure, and the uptake shows industry can see the compatibility between the two.
Infrastructure networks form the backbone of a modern economy and are a key driver of growth, the PIP is another innovative scheme to unlock investment for major projects. I look forward to watching the scheme develop further in the next few months and congratulate the NAPF and PPF on the strong work they have done to complete this first stage in record time.
Alan Rubenstein, Chief Executive, PPF, said:
Today's announcement is a testament to the hard work that has been put into making this platform a reality. We look forward to continuing to engage with Government as the PIP moves forward.
Joanne Segars, Chief Executive, NAPF, said:
This is an important milestone for an exciting and unique project. Pension funds are on the lookout for long-term, inflation-linked investments, and infrastructure projects can be a strong match. We've had some useful talks with the Government over the past six months, and we will continue working together to take this project forward.
Further details of the announcement are available on the NAPF website (opens in new browser window)
Notes for editors
Work is being carried out by NAPF and PPF with the support of Government to develop the Pensions Investment Platform, planned to launch in early 2013 and could involve between 10 and 12 pension funds, initially investing £2 billion ( leveraged up to £4 billion ) in UK infrastructure projects.

The Founding Investors include BAE Systems Pension Funds, BT Pension Scheme, Pension Protection Fund, The Railways Pension Scheme, Strathclyde Pension Fund, and West Midlands Pension Fund. A number of other pension funds are actively considering becoming Founding Investors.

For further information contact:
NAPF press office:
Paul Platt  020 7601 1717 / 07917 506683  paul.platt@napf.co.uk or
PPF's press office:
Richard Hunt on 020 8633 5931 / 0789 425 5561 richard.hunt@ppf.gsi.gov.uk
Published 18 October 2012