Government vows to get the young into work
The Deputy Prime Minister and Prime Minister set out the Coalition Government's commitment to getting more vulnerable young people into work.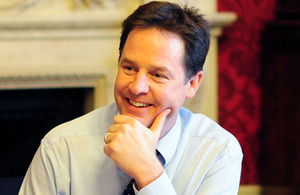 The government has announced a series of measures to prioritise youth employment including a £60m commitment to getting more vulnerable young people into work, a boost to Apprenticeships and radical reforms to transform vocational education.
The measures aim to tackle some of the long term structural barriers that stop some young people from getting a job and starting their career.
The Government's priorities in this area are set out in a paper published today Supporting Youth Employment (pdf, 615kb).
In total the Government will provide funding for up to 250,000 more Apprenticeships over the next four years, and funding for 100,000 work placements over the next two years.
A new £10 million a year innovation fund will also be launched aimed at the voluntary and community sector to help in the drive to help young people find jobs.
Mr Clegg welcomed today's announcement as a chance to give "young people a solid career grounding".
Deputy Prime Minister Nick Clegg said:
We all have a responsibility; government, business, charities, education providers - to work together to find a solution. Our young people have enormous potential and enthusiasm. We have to do whatever we can to help them aspire to be happy and successful, and look to the future with hope.
Mr  Cameron said the measures were "about more than improving the jobless numbers. It's about changing people's lives". He said:
It's time to reverse the trend of rising youth unemployment that has held back our country for far too long and help our young people get the jobs on which their future - and ours - depends.

But government can't act alone. We need employers who are prepared to give young people a go. So I'm delighted that over 100 large companies and tens of thousands of small and medium sized enterprises have already responded to our call for work experience placements so that tens of thousands of young people can take those vital first steps in experiencing the world of work.
Press notice: Government vows to get the young into work
Publication: Supporting youth employment: an overview of the Coalition Government's approach
Published 12 May 2011