Press release
Government unlocks £194 million of college investment
Matthew Hancock announces that 22 colleges will invest £194.3 million in the building of new state of the art facilities.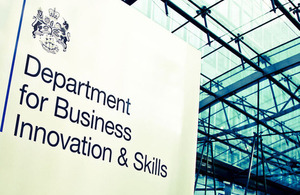 Skills and Enterprise Minister Matthew Hancock today (27 March 2014) announced that 22 colleges will invest £194.3 million in the building of new state of the art facilities. This will include the building of specialist construction centres, advanced engineering facilities and cutting edge design departments across the country.
The total investment includes £113.8 million of government grants matched by £80.5 million of local investment.
The government grants have been allocated as part of the most recent round of the College Capital Investment Fund (CCIF). Since the launch of the CCIF in December 2012, the government has committed over £471 million in college capital investment, enabling the delivery of projects across the country worth over £920 million.
On a visit to New College Nottingham, a previous CCIF grant recipient, Skills and Enterprise Minister Matthew Hancock said:
I am delighted that we are continuing our commitment to improving our colleges, delivering £194 million of capital investment to 22 colleges, who made impressive bids based on responding to consumer need.

Effective capital investment has a significant educational and economic impact, helping attract learners back into education and training, improving learner outcomes, and boosting the businesses and communities they serve.

As part of the government's long term economic plan we must ensure that further education and vocational training is of the highest possible quality and this vital investment will help make that a reality.
New College Nottingham has received grants of £15 million from the CCIF, enabling a total investment of £27 million to build the region's largest construction training centre.
Projects from the latest round include a £2 million grant matched with a further £4 million of funding for York College to build a new Construction Centre. The new facilities will enhance teaching and learning in construction skills helping to support local economic growth. Activate Learning (formerly Oxford and Cherwell Valley College) will receive £1 million in grant funding matched by a further £2 million of additional investment to create a new Technology and Innovation Centre focusing on engineering, electrical design and emerging technologies and will put the college at the heart of the area's plans for further economic development.
Martin Doel, Association of Colleges Chief Executive, said:
This newly announced capital investment will make a real difference to further education colleges and their students across England. It is noteworthy that overall colleges are providing 50% of the total funding to the government contribution from the capital investment fund to ensure that more than £900 million is being spent to make these new buildings a reality.
The government is targeting the colleges in greatest need of help to update and modernise their facilities. This investment will develop poor estates into top of the range vocational education colleges. This will help increase the value and rigour of learning and ensure the skills and education that learners gain relates directly to the needs of local employers.
Notes to Editors
1.The colleges that have been approved to receive funding through the most recent CCIF funding rounds (subject to due diligence) can be found at: SFA capital funding: CCIF project summaries
2.CCIF was announced in December 2012 through the Autumn Statement, the Skills Funding Statement and the Further Education College Capital Investment Strategy. Since then more than £471 million has been allocated to FE colleges across England enabling projects with a total value in excess of £920 million.
3.In December 2012, the government published the Further Education College Capital Investment Strategy which set out the clear rationale for the creation of a £550 million investment programme targeted at colleges:
800,000 learners in England are currently learning in sub-standard buildings
every £1 million of capital expenditure increases participation by between approximately 62 and 86 learners per year
a £5 million college refurbishment project could typically employ around 60 people and could increase to as much as 600 jobs for a £20 million college relocation
annual maintenance costs for the worst colleges are 34% higher than the best
4.The CCIF criteria, which are based upon priorities set by ministers, were developed with input from college sector representatives. The approved projects were chosen in a robust assessment and moderation process, conducted by the Skills Funding Agency and supported and endorsed by the AoC.
5.The government's economic policy objective is to achieve 'strong, sustainable and balanced growth that is more evenly shared across the country and between industries'. It set 4 ambitions in the 'Plan for Growth', published at Budget 2011:
to create the most competitive tax system in the G20
to make the UK the best place in Europe to start, finance and grow a business
to encourage investment and exports as a route to a more balanced economy
to create a more educated workforce that is the most flexible in Europe
Work is underway across government to achieve these ambitions, including progress on more than 250 measures as part of the Growth Review. Developing an Industrial Strategy gives new impetus to this work by providing businesses, investors and the public with more clarity about the long-term direction in which the government wants the economy to travel.
Published 27 March 2014