News story
Government to stop charities losing out on Gift Aid
Gift Aid model declaration form is to be improved by government, to stop charities losing out on potentially billions of pounds of Gift Aid.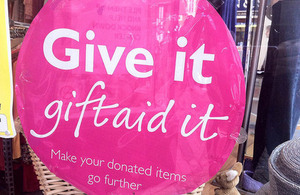 According to National Audit Office (NAO) estimates there are donations of around £2.3 billion where Gift Aid is not used. Though not all of these donations will be eligible for Gift Aid, the government is working with charities to boost the number of eligible donations.
One way it hopes to do this is by improving the model Gift Aid declaration form, as research published today shows that understanding of Gift Aid is low and that donors do not always make the link between tax they've paid and Gift Aid claimed by the charity.
The model Gift Aid declaration is used by a large number of charities, particularly smaller ones, to help them collect the declarations which are needed to claim Gift Aid on donations. Possible improvements include making the language used about Gift Aid more straightforward to enable donors to decide if their donations qualify for relief.
Exchequer Secretary to the Treasury, Priti Patel said:
Gift Aid is an important tax relief for charities which helps to provide essential revenue to charitable causes. This research shows that there is more that government can do to boost eligible donations which is why we are simplifying the declaration forms to make sure donors understand when they're eligible so that charities can maximise the financial donations they receive.

We hope that this research will help to raise awareness and boost Gift Aid on eligible donations.
Emma Greenwood, head of policy development at Cancer Research UK, said:
Gift Aid is the most widely used form of tax-efficient giving in the UK, and we believe it's hugely important. Gift Aid works best when it is simple, and we welcome the government's commitment to simplifying the declaration form to help donors better understand the scheme. It is important that any changes made to the Gift Aid scheme are 'future-proofed' as much as possible.
The research came as part of an announcement made in Budget 2014 that the government will encourage more donors to use Gift Aid on eligible donations and encourage smaller charities to register for the reliefs they are entitled to.
Further ways HMRC believes it can improve its model Gift Aid declaration form include:
avoiding excess detail or dense formatting
breaking up the information to make it easier to digest
changing the layout significantly so donors pay more attention to the information
Photo courtesy of Howard Lake on Flickr, used under Creative Commons.
Published 17 November 2014