Government to recruit new chairs for UK Sport and Sport England
Two individuals will play a crucial role in keeping up momentum from London 2012 and delivering sports legacy The Government has begun the…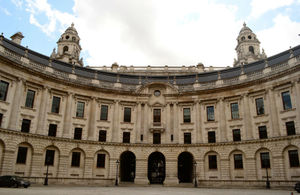 Two individuals will play a crucial role in keeping up momentum from London 2012 and delivering sports legacy
The Government has begun the search for new chairs of UK Sport and Sport England, Minister for Sport Hugh Robertson announced today.
The Department for Culture, Media and Sport is looking to recruit two high calibre individuals that will replace UK Sport chair Baroness Sue Campbell and Sport England chair Richard Lewis, who will both step down from their posts in the first quarter of this year.
After 10 years as UK Sport chair Baroness Campbell has reached the maximum term in line with requirements set for public appointments. Richard Lewis has decided to stand down at the end of this current term as Sport England chair due to the time constraints placed on him in his role as Chief Executive of the All England Club.
The new chairs of UK Sport and Sport England will be tasked to help keep up the momentum for sport at the elite end and at the grassroots respectively, following the success of the London 2012 Olympic and Paralympic Games.
UK Sport helped Team GB and Paralympics GB land a record medal haul at the Games with Britain finishing third in the medal tables at both the Olympics and Paralympics. The elite sport funding body announced in December that it will not rest on its laurels and has already made clear that the target is for both OIympic and Paralympic teams to win more medals in Rio 2016 than in London 2012. The chair of UK Sport will help the body create a stronger, more sustainable elite sport system that will support world-class British athletes.
Sport England has played a pivotal role in increasing sports participation since London won the bid to host the Games. A record 15.5 million people are playing sport once a week, up by 1.6 million on 2005. In the last 12 months alone 750,000 more people are playing sport once a week. The chair of Sport England will help deliver the body's £1 billion youth and community sport strategy to increase participation further and encourage a culture where people have a sporting habit for life.
Robertson thanked Sue Campbell and Richard Lewis for the excellent jobs both have done.
He said:
"Sue Campbell has led the transformation of elite sport in this country. The results in both the Beijing and London Games were testament to UK Sport developing a system that helps athletes fulfil their potential and Sue deserves great credit for that.
"Richard Lewis has helped Sport England lay the foundations for an extremely strong sports legacy from London 2012. Under his leadership, participation levels in England have never been higher, the body has a clear direction of travel with its Youth and Community strategy, and its Places People Play programme is improving sports facilities up and down the country. Richard has been an excellent chair and I wish him all the best as he focuses on his key role at the All England Club.
"The new chairs at UK Sport and Sport England will be tasked to keep up this momentum and work closely together to ensure a more joined up approach to sports administration so that from the grassroots to the elite, sport is in the best possible health."
Robertson also announced that UK Sport and Sport England will be tasked to build on their work in 2012 - to develop a shared strategic approach on issues such as sports governance and talent management - but added there would not be a full merger of the two organisations. However he wants to drive further synergies between both bodies with UK Sport and Sport England co-located by 2014, sharing some back office services. This will help reduce administrative costs over this Spending Review period.
UK Sport chair Baroness Sue Campbell said:
"I welcome the government's announcement today on realising the strategic benefits of the two organisations working closer together to deliver real and lasting benefits to British sport. This outcome recognises the unique role that the two organisations fulfil in the sporting landscape at grassroots and elite level. I firmly believe that this is the best way forward and offers the most effective way to build on the incredible success of London 2012."
Sport England chair Richard Lewis said:
"It has been a huge honour to chair Sport England, an organisation which stands at the heart of sport in this country and which in recent years has made great progress in helping community sport to modernise, giving people the high quality experience they're looking for. The result is that we have more people enjoying sport every week than ever before. I have immensely enjoyed working with a Board and executive of such high quality and professionalism. It is the nature of community sport that it seldom hits the headlines but the work that is going on behind the scenes is truly outstanding.
"As a member of both Sport England and UK Sport's Boards, I can say that our organisations are collaborating more than ever before, particularly around ensuring that Sport England's considerable investment in talent development works seamlessly with UK Sport's elite funding. This co-operation will be made even smoother by plans to bring the two organisations together in one location next year. We will continue to explore all back office savings that can be made when this happens."
The Government intends to conduct a joint review of both organisations in 2014 / 15 as part of the Government's rolling programme of reviews of non-departmental public bodies.
Notes to Editors
Baroness Sue Campbell joined UK Sport in 2003 as chair with a vision to restructure and refocus the organisation to deliver medal success. She was also part of the bid team that secured the London 2012 Olympic and Paralympic Games. UK Sport's 'no compromise' approach to investment, its Mission 2012 performance tracking tool and advances in the high performance system supporting British elite athletes helped Team GB and ParalympicsGB both finish 3rd in the medal table at London 2012, winning 185 medals in total.
Richard Lewis became chair of Sport England in 2009, leading the organisation through a period of significant change and improvement in the delivery of community sport, resulting in more people than ever playing sport every week.  Prior to joining Sport England Richard was Executive Chairman of the Rugby Football League, following a career as an international tennis player, coach and administrator. He was appointed Chief Executive of the All England Club, Wimbledon in 2012.
Press Enquiries: 020 7211 2210
Out of hours telephone pager no: 07699 751153
Public Enquiries: 020 7211 6000
Published 23 January 2013