News story
Government to open up publicly funded research
The Government will widely accept the recommendations in a report on open access by Dame Janet Finch, a move which is likely to see a major …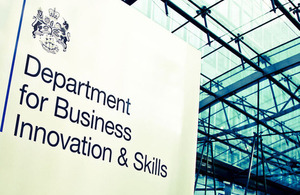 The Government will widely accept the recommendations in a report on open access by Dame Janet Finch, a move which is likely to see a major increase in the number of taxpayer funded research papers freely available to the public.
Currently most formally published research is only available behind restricted paywalls. Reforms will see publications opened up to a greater audience, providing more opportunities for research and development across a range of sectors. They will also support the commercial exploitation of research, contributing to the Government's economic growth agenda.
Universities and Science Minister David Willetts said:
"Removing paywalls that surround taxpayer funded research will have real economic and social benefits. It will allow academics and businesses to develop and commercialise their research more easily and herald a new era of academic discovery. This development will provide exciting new opportunities and keep the UK at the forefront of global research to drive innovation and growth."
Among the recommendations that have been accepted by the Government are:
Moving to deliver open access through a 'gold' model, where article processing charges are paid upfront to cover the cost of publication.
Introducing walk-in rights for the general public, so they can have free access to global research publications owned by members of the UK Publishers' Association via public libraries.
Extending the licensing of access enjoyed by universities to high technology businesses for a modest charge.
The recommendations have also been welcomed by Research Councils UK (RCUK) and Funding Councils who have also set out their plans for open access.
Professor Doug Kell, RCUK Champion for Research and Information Management said:
"Widening access to the outputs of research currently published in journals has the potential to contribute substantially to furthering the progress of scientific and other research, ensuring that the UK continues to be a world leader in these fields. I am delighted that, together, the Research Councils have been able both to harmonise and to make significant changes to their policies, ensuring that more people have access to cutting edge research that can contribute to both economic growth in our knowledge economy and the wider wellbeing of the UK."
The Higher Education Funding Council for England (HEFCE) have also welcomed the report and will be making open access published research the basis for the Research Excellence Framework from 2014.
The details of how these measures should be developed will be worked on by funders in consultation with universities, research institutions, authors and publishers.
**Notes to editors:
**
The Report of the Working Group on Expanding Access to Published Research Findings - the Finch Group was published on 19 June 2012 ([http://www.researchinfonet.org/publish/finch/](http://www.researchinfonet.org/publish/finch/)).

The government's decision is outlined in a formal response to recommendations made in the Finch Report.

The Higher Education Funding Council for England (HEFCE) is developing proposals to make open access published research the basis for the Research Excellence Framework after 2014. HEFCE's policy reflects the agreement reached by all four Funding Bodies in the United Kingdom.

Research Councils have issued their policy on open access via Research Councils UK (RCUK).

The report is likely to influence the development of open access policy in Europe and elsewhere including the United States. The European Union is expected to move further towards open access for research funded under its future Horizon 2020 research programme.

The report's recommendations refer to the future use of article processing charges (APCs), designed to sustain a high quality peer review process and ensure that users have immediate and full unrestricted access to published research findings. Research Councils will be awarding block grants to establish institutional funds, which will allow payment of APCs, thereby facilitating the immediate and competitive open publication of research findings on an unrestricted public access basis. This is the 'gold' open access route, and it will be the preferred option for RCUK-funded research. The detailed allocation process will be subject to discussion between RCUK and universities / research institutions. APC Funds will be supported by both Research Councils and Funding Councils.

The Government's economic policy objective is to achieve 'strong, sustainable and balanced growth that is more evenly shared across the country and between industries.' It set four ambitions in the 'Plan for Growth' (PDF 1.7MB), published at Budget 2011: * To create the most competitive tax system in the G20 * To make the UK the best place in Europe to start, finance and grow a business * To encourage investment and exports as a route to a more balanced economy * To create a more educated workforce that is the most flexible in Europe.
Work is underway across Government to achieve these ambitions, including progress on more than 250 measures as part of the Growth Review. Developing an Industrial Strategy gives new impetus to this work by providing businesses, investors and the public with more clarity about the long-term direction in which the Government wants the economy to travel.
BIS's online newsroom contains the latest press notices and speeches, as well as video and images for download. It also features an up to date list of BIS press office contacts. See [http://www.bis.gov.uk/newsroom](http://www.bis.gov.uk/newsroom) for more information.
Notes to Editors
Contact Information
Name BIS Press Office Job Title
Division Department for Business, Innovation & Skills Phone
Fax
Mobile
Email bispress.releases@bis.gsi.gov.uk
Name Dan Palmer Job Title
Division Department for Business, Innovation and Skills Phone 020 7215 5303 Fax
Mobile
Published 16 July 2012