News story
Government to invest £50 Million in UK manufacturing
Business Minister Mark Prisk has announced a review into how we can grow Advanced Manufacturing in the UK.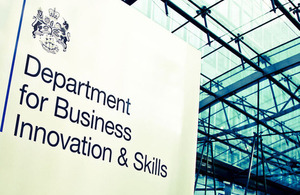 The Growth Review Framework for Advanced Manufacturing (PDF, 235 Kb) , published today, examines how we can remove the barriers that are preventing the UK becoming Europe's leading exporter of high value goods and stopping people from seeking a career in engineering.
As part of the Framework £50 million is being invested over three years in the Manufacturing Advisory Service (MAS) which provides a highly valued advice service to industry making SMEs more productive and competitive.
In January an Advanced Manufacturing summit will be held, attended by Nick Clegg, Vince Cable and Mark Prisk as well as key manufacturing stakeholders and other Government departments.
Contributions from industry at this event and from responses to the framework will feed into the Advanced Manufacturing strand of the Government's Growth Review which will announce policy proposals by Budget 2011.
The third of BIS's exhibitions showcasing UK manufacturing is in 1 Victoria Street to launch the Framework.
Exhibits demonstrating how the UK is a world leader in manufacturing include:
Ford EcoBoost engine. This high-tech, low emission engine is designed, engineered and built in Britain. Across the world, one in three Ford vehicles has a UK-made engine.
Brompton: The company won a Queen's Award for Innovation and International Trade in 2010. Their famous bike, designed and manufactured in London, is safe, agile and fast, yet folds into a highly compact package.
Alicat Workboats: their innovative, high-spec catamarans are built in Great Yarmouth to support the development of offshore wind turbines.
Airbus: A snapshot of the Airbus supply chain shows the UK companies which provide components, including Rolls-Royce and wing-makers GKN.
Links
Published 10 December 2010