News story
Government to invest £20 million in synthetic biology
Synthetic biology aims to design, engineer or replicate biological systems, for example biosynthetic insulin, which first went on sale on 1982…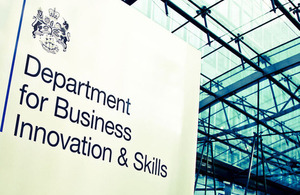 Synthetic biology aims to design, engineer or replicate biological systems, for example biosynthetic insulin, which first went on sale on 1982. Seventy per cent of the insulin sold worldwide is produced in this way.
Today's investment supports new research projects at the Universities of Manchester, Warwick, Nottingham, Glasgow and Exeter and the John Innes Centre in Norwich. These aim to help address major global challenges such as producing low-carbon fuel, reducing the cost of industrial raw materials and producing new pharmaceuticals.
Minister for Universities and Science, David Willetts said:
"Synthetic biology could provide solutions to the global challenges we face and offers significant growth opportunities in a range of important sectors from health to energy. However the commercialisation of basic science is largely untapped.
"This investment is part of the Government's commitment to making the UK a world leader in the research and application of synthetic biology. It will help to ensure that academics and industry can realise its full potential."
The investment underpins the Government's response to the industry-led national Synthetic Biology Roadmap, developed following a roundtable discussion led by Business Secretary Vince Cable and David Willetts in October last year.
Among the recommendations in the roadmap accepted by Government are to:
Invest in a network of multidisciplinary centres to establish an outstanding UK synthetic biology resource
Build a skilled, energised and well-funded UK-wide synthetic biology community
Invest to responsibly accelerate technology to market
Assume a leading international role
Establish a Leadership Council in synthetic biology.
Lionel Clarke of Shell Projects and Technology, who chaired the coordinating group for the roadmap, said:
"I warmly welcome this very constructive response to our recommendations. A very rewarding aspect of this exercise has been the enthusiastic engagement of the broader community whose views we have sought to assimilate, underpinned throughout by the ongoing support and commitment of the TSB and Research Councils, as evident not least from today's announcement. Achieving this strategic alignment, with the Leadership Council set to act as a focal point for ongoing coordination, will play a key role in realising our collective vision for synthetic biology in the UK."
The Government is already investing in synthetic biology research and commercialisation including:
The Biotechnology and Biological Sciences Research Council (BBSRC), the Engineering and Physical Sciences Research Council (EPSRC) and the Technology Strategy Board (TSB) have recently issued a £10 million public call to establish an Innovation and Knowledge Centre (IKC) in Synthetic Biology. This will encourage collaboration between academia and industry to help translate basic science into a wide range of commercial applications.
In 2012 alone BBSRC has invested £4 million in the Universities of Oxford and Southampton to develop a new platform technology for producing synthetic DNA and RNA.
EPSRC has provided £5 million of funding to the Universities of Cambridge, Edinburgh and Newcastle and Imperial and King's Colleges London to help establish platform technologies necessary for applications to be produced and commercialised.
The Technology Strategy Board has invested £6.5 million to encourage businesses to explore new industrial applications for synthetic biology as part of its programme for emerging technologies and industries.
Taken together these various initiatives are building the foundation for future UK success in commercialising synthetic biology, which will be overseen by the Leadership Council to be jointly chaired by David Willetts and Lionel Clarke.
**Notes to editors
1. **The Chancellor's speech at the Royal Society can be found here: [http://www.hm-treasury.gov.uk/speech_chx_091112.htm](http://www.hm-treasury.gov.uk/speech_chx_091112.htm).
2.** **The Government response can be found here: [http://www.bis.gov.uk/assets/biscore/science/docs/r/12-1250-response-to-synthetic-biology-roadmap-for-uk](http://www.bis.gov.uk/assets/biscore/science/docs/r/12-1250-response-to-synthetic-biology-roadmap-for-uk).
3.** **The Synthetic Biology Roadmap is available here: [http://www.rcuk.ac.uk/Publications/reports/Pages/syntheticbiologyroadmap.aspx](http://www.rcuk.ac.uk/Publications/reports/Pages/syntheticbiologyroadmap.aspx).
4.** **The £20 million investment through the Biotechnology and Biological Sciences Research Council (BBSRC) will fund six research projects. The awards include:
**£2.9M to help make low-carbon fuel, Professor Minton, University of Nottingham
**Researchers are working to maximize the use of sustainable forms of energy by harnessing the ability of certain bacteria to 'consume' the gas carbon monoxide (CO) and convert it into useful chemicals and fuels.
CO is an abundant resource, and a waste product of steel manufacturing, oil refining and other industries. If we can use this CO to provide more sustainable energy, this would also result in a reduction in fossil carbon emissions.
Some routes to biofuel generation through biological systems have relied on conversion of plant materials, such as sugars and starch. This has led to concerns over competition with use of these products as food, and a refocusing of efforts on so-called 'second generation' biofuels.
The researchers will gain a better understanding of how the biofuel-producing 'Clostridium ljungdahlii' functions and use synthetic biology approaches to broaden and extend product streams in an industrialized setting, without the need to consume valuable food or land resources.
**£4.5M to understand natural biological 'factories' and their role in producing novel agrochemicals, Professor Challis, University of Warwick.
**Many microorganisms produce beneficial compounds, such as the antibiotic erythromycin made by a soil bacterium. Genome sequencing has shown that most microbes have the potential to produce very many more compounds than are actually observed. Realisation of this potental could lead to a strong flow of new compounds for testing as medicines and agrochemicals.
This research will exploit the assembly line architecture of natural product biosynthesis to discover novel agrochemical leads and optimise them for application using synthetic biology tools. The ambitious programme aims to rapidly sequence the genomes of 40 microorganisms that are hypothesised to produce compounds of potential benefit to agriculture. Clusters of genes responsible for synthesising these compounds will be identified and manipulated so that they can be harnessed to make useful products.
**£4.0M to establish a sophisticated new methodology for creating useful microorganism strains, Professor Stark, University of Glasgow.
**Synthetic Biology aims to design-build-test-modify biological systems for useful purposes. New sets of genes (encoded in DNA sequence) often need to be introduced and assembled in specified positions within a long DNA sequence. The genetic techniques currently available for this 'assembly' task are quite primitive and considered to be a serious bottleneck in synthetic biology.
This research programme will establish a sophisticated new methodology for this gene assembly process which will achieve a step-change in the speed and efficiency of creating useful biological systems.
**£4.0M to engineering synthetic microbial communities for biomethane production, Dr Soyer, University of Exeter
**Some communities of microbes are able to produce an important biofuel, biomethane, as a waste product. This research aims to improve the functionality of biomethane-producing microbial communities by employing both top down (directed evolution) and bottom up (synthetic biology) engineering.
This two-tiered approach will optimise natural communities and design synthetic communities to achieve robust, high-yield biomethane production. These developments will help to develop more sustainable bioenergy solutions for the UK economy and drive the efficiency of biomethane as an alternative fuel source.
**£4.4M for the use of synthetic micro-organisms to develop industrial biocatalysts, Professor Turner, the University of Manchester
**During the next 10-20 years, the chemical industry around the world will undergo a major transformation. As both oil and natural gas begin to run out, there is a need to switch from oil-based starting materials to those derived from biomass.
Biotechnology-based processes are therefore needed to convert inexpensive raw materials efficiently to high-value products. Industrial Biotechnology involves the use of nature's catalysts, known as enzymes, for the production of chemicals and related products.
This research will help to rationally design and construct engineered biocatalysts and pathways that are capable of the efficient and excellent conversion of simple, low-cost renewable feedstocks (e.g. cellulose, lipids, waste biomass) to high value end products.
The researchers will develop a new approach to engineering excellent biocatalysts by mimicking the process of evolution in the laboratory. This new platform technology will enable the optimisation of enzymes for industrial applications in a matter of weeks rather than the months which it currently takes.
**£2.5M for the first step in engineering cereal that is less reliant on fertiliser, Professor Oldroyd, John Innes Centre
**Reliance on inorganic nitrogen fertilisers is costly for the environment and for farmers. In developing countries, farmers may not have the resources nor the infrastructure for the production and supply of fertiliser, leading to lower yields. Even slight increases in nitrogen availability could significantly improve crop yields and have major economic benefits.
Legumes (such as peas and beans) have evolved the capability to interact with bacteria in the soil that are able to 'fix' nitrogen from the atmosphere to make it available to the plant, supplying the plant with its nitrogen needs.
This research will initiate the first steps towards the transfer of this biological nitrogen fixation to cereal crops, through engineering a signalling pathway that enables the plant to perceive nitrogen-fixing bacteria. This will offer the opportunity of some beneficial plant-bacterial association in cereals.
The IKC call can be found here http://www.bbsrc.ac.uk/news/research-technologies/2012/121102-n-ikc-synthetic-biology.aspx.
Further examples of synthetic biology include:
**Rapid diagnostics
**The E. coli O157:H7 strain causes a serious infection, which can lead to acute kidney failure and death in up to 5 per cent of cases. Professor Tim Dafforn from the University of Birmingham is developing a rapid E. coli detection system using a novel technique. Using synthetic biology, Dafforn has engineered a filamentous virus called M13 to 'stick' to chosen target molecules, in this case E.coli.
Just as meatballs disturb aligned spaghetti, bacteria stuck to the virus particles causes them to separate and tangle, a change which can be detected in less than two minutes. The method also has potential to be used for many different bacteria simply by changing the target binding site. A spin-out company, Linear Diagnostics, has been set up by the team to develop the technology from the initial prototype.
**Understanding viruses
**A research team led by Professor Polly Roy of the London School of Hygiene and Tropical Medicine has recently reconstructed a Bluetongue virus (BTV) in a test tube. The virus is responsible for an important disease (Bluetongue) of livestock that is transmitted by midges.
This is an important step in vaccine creation. By using the tools of synthetic biology researchers hope to rebuild viruses like this to particular specifications and so design new vaccines with useful properties. Developing a vaccine that is tagged with a marker, for example, would make it easier to tell the difference between animals that have been vaccinated and those that have suffered a disease. The team also hopes to deliver more effective vaccines for bluetongue than are currently available.
**Biofuel from bacteria
**TMO renewables is a prominent example of a UK company delivering commercial success out of a synthetic biology approach. One of the cornerstones of the TMO process is the ability of its proprietary microorganisms to produce ethanol. TMO has achieved this by employing a synthetic biology approach to develop strains that can convert feedstocks to fermentable sugars with great efficiency, thus maximising ethanol yields. Using synthetic biology techniques will facilitate the development of additional improved strains for use in the production of other renewable fuels and chemicals.
The Government's economic policy objective is to achieve 'strong, sustainable and balanced growth that is more evenly shared across the country and between industries'. It set four ambitions in the 'Plan for Growth' (PDF 1.7MB), published at Budget 2011:
To create the most competitive tax system in the G20

To make the UK the best place in Europe to start, finance and grow a business

To encourage investment and exports as a route to a more balanced economy

To create a more educated workforce that is the most flexible in Europe.
Work is underway across Government to achieve these ambitions, including progress on more than 250 measures as part of the Growth Review. Developing an Industrial Strategy gives new impetus to this work by providing businesses, investors and the public with more clarity about the long-term direction in which the Government wants the economy to travel.
BIS's online newsroom contains the latest press notices and speeches, as well as video and images for download. It also features an up to date list of BIS press office contacts. See [http://www.bis.gov.uk/newsroom](http://www.bis.gov.uk/newsroom) for more information.
Notes to Editors
Contact Information
Name BIS Press Office Job Title
Division Department for Business, Innovation & Skills Phone
Fax
Mobile
Email bispress.releases@bis.gsi.gov.uk
Name Sally Catmull Job Title
Division Department for Business, Innovation and Skills Phone 020 7215 6577 Fax
Mobile
Published 9 November 2012