News story
Government takes action to improve digital experience for the disabled
Launching the eAccessibility Plan, the Minister announced a package of measures that will contribute to a more inclusive digital economy for…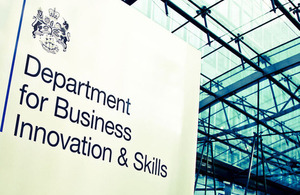 Launching the eAccessibility Plan, the Minister announced a package of measures that will contribute to a more inclusive digital economy for people with specific needs.
Ed Vaizey said:
"A successful digital economy can only be achieved if everyone can enjoy the same advantages that technology offers, like access to public services, online shopping and banking, interactive games and social media.
"The market already provides options to suit different disabilities but making use of these technologies can still be difficult, and expensive. Our eAccessibility Plan will help ensure that the UK offers better online opportunities and access to equipment and software for people with disabilities."
The key objectives of the plan include:
Improving technology and digital equipment to suit the needs of those with disabilities and tackling issues of affordability and availability of equipment (television, radio, computer) and software (such as Braille embossers, light signallers and screen readers);
Implementing a new regulatory framework to enable OFCOM to specify measures to ensure disabled people have equivalent choice and access to digital communications services as non-disabled consumers;
Improving the design of public sector websites to make them more accessible to disabled users;
Making previously inaccessible online and television content accessible to disabled users, such as e-books for those with a visual impairment; and
Promoting awareness of the issues facing disabled groups in the digital economy to achieve a more inclusive society.
The plan will be implemented by the eAccessibility Forum, a group of over 60 experts from Government, industry and the voluntary sector who will work to explore issues surrounding e-accessibility so that better and more inclusive services can be developed for both business and consumer benefit.
The Action Plan will be a 'live document' updated quarterly to incorporate new developments and monitor progress. The aim is to reach a step-change in eAccessibility by the time of the Olympics and Paralympics in summer 2012.
Notes to editors:
The eAccessibility plan can be found at:
http://www.bis.gov.uk/policies/business-sectors/digital-content/e-accessibility-forum
The eAccessibility forum was set up in April 2010 by the Department for Business, Innovation and Skills. The group draws together Government, business and disability rights groups to explore and understand issues of e-accessibility and develop and share best practice across sectors. They are particularly focused on facilitating business opportunities around the development of products, and in particular, terminal equipment for disabled users.
---
BIS' online newsroom contains the latest press notices, speeches, as well as video and images for download. It also features an up to date list of BIS press office contacts. See http://www.bis.gov.uk/newsroom for more information.
Notes to Editors
Contact Information
Name BIS Press Office Job Title
Division COI Phone
Fax
Mobile
Email NDS.BIS@coi.gsi.gov.uk
Published 12 October 2010