Press release
Government tackles diversity issues head on
Secretary of State for Digital, Culture, Media and Sport Matt Hancock brought together organisations from across DCMS sectors to discuss diversity and inclusivity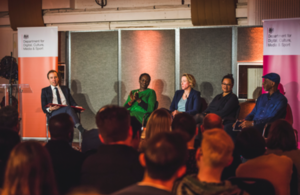 In the first event of its kind, Digital and Culture Secretary Matt Hancock, brought together more than 100 organisations from across the digital, culture, media and sporting worlds to address diversity concerns.
The diversity forum, hosted at the world famous Abbey Road Studios, is part of the Government's mission to create a fairer society where success is based on merit, not privilege. The forum was attended by high profile figures including former paralympian Lady Tanni Grey-Thompson, CodeFirstGirls' Chief Executive Amali de Alwis, ITV's Head of Diversity Ade Rawcliffe, Chair of UK Music's Diversity Taskforce Keith Harris and Sport England's Director of Insight Lisa O'Keefe.
Too often sectors work on diversity and social mobility in silos, convinced that the challenges they face are unique. The new forum will identify and share best practice for increasing diversity and social mobility, making the sectors inclusive and representative of the communities they serve across the country.
Speaking at the event, Secretary of State for Digital, Culture, Media and Sport Matt Hancock said:
Diversity is not just a moral imperative, it makes good business sense. It's crucial that these positive intentions are converted into good decisions.

Talent in music, sport, tech, art and design can be found anywhere but unless we look for it everywhere, we all risk losing out. We need to open up opportunities to everyone in this country - because you'll never serve the nation unless you reflect the nation.
Sport England's Director of Insight, Lisa O'Keefe said:
This was an invaluable opportunity to share learning from our successful This Girl Can campaign with representatives from very different industries - each with a common goal to increase diversity. We all have so much to learn from each other as we work to tackle the same big challenges of under-representation in our respective sectors - and so much more to do to. But by working together, we will achieve faster change.
Attendees also heard from Deborah Williams, Executive Director of the Creative Diversity Network. She oversees Project Diamond which tracks levels of diversity in front of and behind the camera of all UK-originated productions on BBC, ITV, Channel 4, Channel 5 and Sky.
Deborah Williams said:
It was so pleasing to see representatives from across the entire DCMS portfolio in one space sharing experiences and learning from each other. Matt Hancock showed his passion for diversity and made clear there is no turning back in this agenda.
The Diversity Forum coincides with the publication of the Creative Industries Sector Deal which will see £2 million made available to kickstart an industry-led skills package. This includes a creative careers programme to encourage a more diverse intake of talent and more routes into the creative industries.
Commenting on the event the British Film Institute's Chief Executive Officer, Amanda Nevill, said:
We strongly welcome the Secretary of State's commitment to diversity and inclusion and believe that film, as one of the most accessible art forms, is a vital driver for change.

The BFI actively demonstrates our commitment through what we say and what we do, for example our current BFI Flare: LGBTQ+ Film Festival, the BFI Film Academy or the adoption of BFI Diversity Standards, which have become a game changer for film. The Diversity Standards are a prerequisite to receive BFI National Lottery funding but they are also enthusiastically being adopted by the industry as an essential tool to effect change through challenging recruitment decisions. They show just how determined and open we are as an industry to offer opportunity to everyone.
Notes
Read the Secretary of State's speech.
Published 28 March 2018