Press release
Government supports next generation of power semiconductors
Government injects £2 million to develop next generation of power semiconductors in Stockport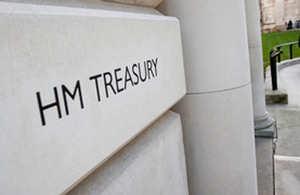 The Chief Secretary to the Treasury, Danny Alexander, will today announce a £2 million boost for research into the development of a breakthrough electronics material, Gallium Nitride (GaN) by one of the UK's leading electronics firms in Stockport.
The funding, which comes from the government's Regional Growth Fund (RGF), will support a private sector investment of over £7.5 million. This investment safeguards over 400 existing jobs, creates up to 100 new positions in Stockport and firmly establishes the UK as a global research hub for the world-leading electronics firm NXP.
NXP Semiconductors UK successfully bid for funding to develop its next generation of power semiconductors using GaN. GaN is more efficient than conventional silicon and as a result is likely to become a vital resource for the power industry, and future electronics market. Eventually this breakthrough raw material could replace traditional silicon components in power electronic systems such as used in car systems, mobile phones and communications infrastructure as well as cloud computing.
The funding has been awarded as part of the third round of the Regional Growth Fund and will be used to recruit extra research and development staff, make prototype models, consult the UK's leading academics and provide equipment for the development phase. It will support NXP's investment to create a leading centre for power semiconductors in its Manchester facility, as well as local businesses and suppliers.
The Chief Secretary, Danny Alexander, speaking to the Manchester Chamber of Commerce will say:
I'm very pleased that money from the Regional Growth Fund is supporting the world-leading GaN research facility in Stockport which is a real boost for the local area, supporting a huge private sector investment and local jobs.
The Regional Growth Fund gives us the opportunity to support innovative projects like this and shows we are doing everything we can to boost growth and the position of the UK as a global leader in science and innovative technology.
Notes for Editors
The government's Regional Growth Fund (RGF) is a £2.6 billion fund operating across England from 2011 to 2016. It supports projects and programmes that lever private sector investment to create economic growth and sustainable employment. The first three rounds will generate over £13 billion of private sector investment and create or safeguard over 500,000 jobs. The fourth round of RGF will make a further £350 million available in the pot and bidding has now closed. More information is available
Round 4 closed on 20 March. Over 300 bids have been received in Round 4, competing for a share of £350 million. Bids are being appraised and results will be announced in the summer. A regional summary of bids received in this round was published on 5 April 2013. More information is available
NXP Semiconductors LTD is a world-leader in research and development of semiconductors. More information is available
Published 30 May 2013