Government supports more efficient dispute resolution
Government has signed the first Dispute Resolution Commitment, requiring departments to use mediation, arbitration and conciliation.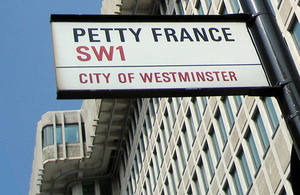 The move is part of the Government's drive to use better, quicker and more efficient ways of resolving legal disputes.
Today's DRC will build on this and save further time, money and stress for everyone involved by reducing their legal and court costs, and in turn reducing the number of cases unnecessarily clogging up the courts.
Justice Minister Jonathan Djanogly said: 'I believe that government should be leading by example by resolving issues away from court using alternatives which are usually quicker, cheaper and provide better outcomes.
'We want people to see court as a last resort rather than a first option, and cut down on the amount of unnecessary, expensive, painful and confrontational litigation in our society.
'In many cases methods like mediation are simply a common sense solution which benefits everyone involved. Although they will not be suitable in every case, they are already saving taxpayers millions every year and can save much more.'
The DRC will renew and strengthen the Alternative Dispute Resolution Pledge made by Government in 2001.
Making more use of the wide range of options available to resolve disputes has already saved taxpayers an estimated £360 million over the last decade.
Full text of the government's Dispute Resolution Commitment and guidance for departments and their agencies
News release - Djanogly: More efficient dispute resolution needed

Published 23 June 2011