News story
Government seeks new Chief Construction Adviser
Mr Morrell, who was first appointed to the position in December 2009, will step down in November after completing two successful terms in post…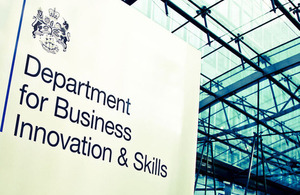 Mr Morrell, who was first appointed to the position in December 2009, will step down in November after completing two successful terms in post.
Working with BIS and Cabinet Office, he has led on the implementation of the Government's five year construction strategy which aims to deliver efficiencies of up to 20 per cent by 2015 - focusing on waste, greater transparency on costs, new models of procurement and smarter use of technology.
Successes include the introduction of cost benchmarking and establishing procurement models, trialled in areas such as defence, justice and flood defences. The introduction of Project Bank Accounts has also enabled rapid payment to small and medium businesses through the construction supply chain.
Business Minister Mark Prisk said:
"I am grateful to Paul Morrell who has made significant progress championing the reforms set out in the Government's Construction Strategy and in encouraging the development of a construction industry fit for a low carbon future.
"His industry experience has played a crucial role in bringing together Government and businesses to help lead the transition to a low carbon economy, especially in his efforts to set up the Green Construction Board.
"I look forward to recruiting a worthy successor to take forward this agenda so that this multi billion pound industry can meet the challenges of the future."
Minister for the Cabinet Office Francis Maude said:
"Under Paul Morrell's leadership our construction strategy has strengthened and I am grateful for his achievements.
"In just one year, we introduced cost benchmarking, kicked off trials of new procurement models, extended faster payment for SMEs and began a BIM (Building Information Modelling) revolution.
"I look forward to working with Paul's successor to deliver savings for the taxpayer of up to 20 per cent by 2015."
Applications for the role of Government's Chief Construction Adviser are now being accepted. The appointee will be announced in the summer.
**Notes for editors:
**Paul Morrell
Paul Morrell** **took up the post of HM Government's Chief Construction Adviser in November 2009 after retiring from Davis Langdon where he had worked since joining from university in 1971. He became a Partner at the firm in 1976 and Senior Partner in 1999.

He is a Fellow of the RICS and of the ICE, an Honorary Fellow of the RIBA, and served as a Commissioner on CABE from 2000 to 2008, finishing as Deputy Chairman. Paul received the Award for Outstanding Contribution to the Construction Industry at the 2007 Building Awards_ _and was awarded an OBE for services to architecture and the built environment in the 2009 New Year Honours list.
Chief Construction Adviser role
The Chief Construction Adviser is independent and reports to BIS and Cabinet Office Ministers. The successful individual will:-
Chair the Government Construction Board to deliver the Government's Construction Strategy and the 20 per cent reduction in the cost of construction procurement to the public sector during the lifetime of this Parliament;
Act as a member of the Green Construction Board, working with the industry and Government to deliver a construction industry fit for purpose for a low carbon future and sustainable construction;
Work with the construction industry, through the Strategic Forum for Construction, to improve the industry's business performance and ensure the UK industry is well placed to serve developing needs and markets;
Promote innovation in the sector, including in particular the use of Building Information Modelling in public sector construction procurement;
Act as a focal point on construction issues across Whitehall, bringing together teams in BIS, Cabinet Office, Infrastructure UK and in other Government Departments;
Provide advice to Ministers and Government on construction issues as necessary.
ndividuals wishing to apply for the post of Government Chief Construction Adviser should submit applications to Peter Payne in the Department for Business, Innovation and Skills (peter.payne1@bis.gsi.gov.uk) by Friday 08 June. Applicants should send their CVs and a short statement on how they would meet the demands of the post.

Potential applicants who wish to discuss the post should contact either Denis Walker (denis.walker@bis.gsi.gov.uk; 0207 215 1649) in BIS or Lucy Sydney (lucy.sydney1@cabinet-office.gsi.gov.uk; 07801 348 931) in the Cabinet Office
Green Construction Board
Notes to Editors
Contact Information
Name BIS Press Office Job Title
Division Department for Business, Innovation & Skills Phone
Fax
Mobile
Published 15 May 2012