Government secures deal to support future of British Basketball
Sport England and UK Sport agree package to fund British Basketball teams and help talent development in the sport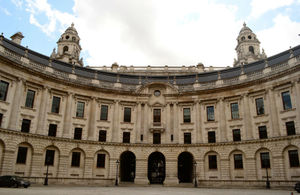 British Basketball will receive £1.18 million from Sport England and technical expertise from UK Sport in a bid to grow the sport in Britain, Sports Minister Helen Grant announced today.
Sport England will provide £1.18 million worth of exchequer and National Lottery funding to British Basketball to support the men's, women's, Under 20 men's and Under 20 women's teams from November 2014 to March 2017.
The funding will contribute to the travel, tournament and coaching costs for the teams competing in international competitions. As a condition of the funding, the senior women's team will target a top 12 position in the 2015 European Championship Finals and the senior men's team qualification for the 2017 European Championship Finals. As part of the financial agreement with Sport England, British Basketball will invest £592,000 of its own money.
UK Sport has agreed to provide British Basketball with expert, technical advice on talent identification - helping athletes progress through the ranks; the development of coaches and in the areas of science, medicine and technology to support the sport's performance at the elite level.
Minister for Sport Helen Grant said:
I am delighted that Sport England and UK Sport have responded to my call to see what more we can do to support basketball in Britain.

The sport has a huge potential to grow and I want there to be a route for young people taking up basketball in this country to get to the top. British Basketball understands that with this funding and support it has to step up, but I am confident that the sport will do that.
Sport England chair Nick Bitel said:
To keep alive the dream of wearing the Great Britain vest, we need recognisable and supported national teams that inspire talented players and create role models for young basketball players at all levels. That's why we've decided to invest this funding.

Basketball plays a valuable role in the drive to grow grassroots participation because it has the potential to reach young people and more diverse communities in a way that other sports don't. We therefore need to do what we can to support and capitalise on the value basketball can bring.

We already support projects that grow grassroots basketball participation and develop talent. We see this as creating a whole package of support for basketball.
Chief Executive of UK Sport Liz Nichol said:
UK Sport has been working closely with Sport England and DCMS to address the questions relating to the appropriate level of support to British Basketball.

We are delighted this has now been agreed with UK Sport's technical expertise in high performance support complementing the investment from Sport England to help Basketball continue to progress to become more competitive at the elite level.
British Basketball Performance Chairman Roger Moreland said:
The last few months have been tough ones for everyone involved with basketball in this country. The Minister has listened carefully to our case and I would like to thank her for the role she has played in brokering a solution.

Sport England's investment is most welcome and provides a vital platform on which to take the sport forward on and off the court for which we are very grateful. Together with the expertise of UK Sport, we look forward to building a better future together for a sport that not only means so much to so many, but also provides opportunity and aspiration for young people across Great Britain.
While the investment will enable the GB teams to continue to compete at an elite level, it will come with new and stronger conditions, set by Sport England, around the governance of the sport – including more independence on the board.
Expert support from UK Sport will look to address the root causes of basketball's underperformance against its targets in previous years. UK Sport and Sport England will also provide British Basketball with commercial advice, as appropriate.
UK Sport will conduct reviews of the sport twice a year, as part of its UK Sport Mission 2016 process, to ensure the sport is progressing performance wise.
British Basketball staff will also have the opportunity to apply for UK Sport development opportunities around coaching and leadership.
Published 7 November 2014