Press release
Government's lead public health official to move to world health organization
Professor David Harper to take up a new role on secondment in Geneva to advise on global preparedness for health security, from March 2012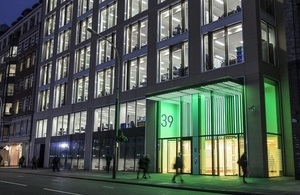 Professor David R Harper CBE, the Chief Scientist and Director General for Health Improvement and Protection at the Department of Health has announced that he will be moving to the World Health Organization, after eight years at the top level of public health in the UK. He will take up a new role on secondment in Geneva to advise on global preparedness for health security, from March 2012.
Professor Harper was appointed as Director General in 2003. Since 2008 his responsibilities have included:
protecting the population from risks posed by infectious diseases and environmental hazards;
preparing for, and responding to, a range of health emergencies and disruptive challenges to health services;
reducing the burden of conditions associated with poor lifestyles;
promoting health and wellbeing;
international health; and
scientific development.
Professor Harper has been instrumental in the development of the government's new approach to public health as set out in the White Paper, "Healthy Lives, Healthy People", which was published in November 2010.
Professor Harper's credentials as an expert policy maker in emergency preparedness and response have been established over a series of health crises.  In particular, he worked with the then Chief Medical Officer to lead the national preparation for, and response to, the flu pandemic in 2009.
Professor Harper said:
"I've enjoyed my time at the Department of Health immensely. I have had a challenging but very rewarding role. I have never failed to be impressed by the hard work and dedication of colleagues in Whitehall, public health professionals and the NHS - particularly in times of crisis.
It is the right time to move on after eight years as a director general. I look forward to taking all the experience I have gained at the Department of Health to the World Health Organization, to apply in my new role as Special Adviser on Global Preparedness."
Health Secretary Andrew Lansley said:
"David has played a vital leadership role in the development of public health in this country, laying strong foundations for the future. I've been hugely grateful for David's hard work and advice - particularly during a challenging flu season last year and in making sure we're as prepared as we can be for this winter. He will be advising us through the winter months before he departs at the end of February.
We should be very proud that an expert who has led preparedness for health crises here is going to advise on global readiness at the World Health Organization. I'd like to wish David the best of luck in his new role."
The Department of Health's Permanent Secretary, Una O'Brien said:
"The nature of the job means that, amongst many other areas, David has had to lead and advise the department on protecting the nation's health.  From the flu pandemic to the response to the Polonium scare, David has always kept a cool head and been able to give high quality, carefully considered advice. He will be able to use his skills and experience to very good effect at the global level.
I'd like to thank David, on behalf of the department and the government, for all his dedication, hard work and achievements. He will be a hard act to follow."
The role of Director General for Health Improvement and Protection will be advertised on open competition shortly.
Notes to editors.
Professor David Harper is a Fellow of the Society of Biology, a Fellow of the Faculty of Public Health of the Royal College of Physicians, and a Fellow of the Royal Society of Public Health. He was awarded the Commander of the Order of the British Empire in 2002.  He has an honorary Professorship at the University of Dundee, and an honorary Doctor of Science from Cranfield University.
A scientist, by training, his disciplines are microbiology and biochemistry.  He worked as Head of the Microbiology Unit at the Metropolitan Police Forensic Science Laboratory before joining the Department of Health in 1989.
In addition, to being a DG, he is the Department's Chief Scientist and Head of Profession for scientists.
The Department of Health will shortly commence the process to recruit his successor.
Published 17 November 2011