Government response on Groceries Code Adjudicator consultation
Government response to a consultation on establishing a body to monitor and enforce the Groceries Supply Code of Practice (GSCOP).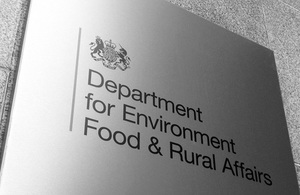 The Government has published the response to its consultation to take forward the establishment of a body to monitor and enforce the Groceries Supply Code of Practice (GSCOP). The Department for Business will bring forward new legislation in order to set up the Groceries Code Adjudicator (GCA), which will reside within the Office of Fair Trading (OFT).
The GCA will have the power to receive complaints about the way supermarkets interact with their primary suppliers from anyone in the supply chain at home or overseas, and deal with them anonymously. This includes farmers who may not directly supply the large supermarkets. Although non-governmental organisations, trade associations and other organisations cannot lodge complaints directly, they still have a useful role to play in offering advice and assistance to their stakeholders.
Minister for Food and Farming, Jim Paice said:
"The businesses that grow and produce our food are worth more than £80 billion to the economy and employ 3.6 million people - and they need a fair market. The new adjudicator will help to strike the right balance between farmers and food producers getting a fair deal, and supermarkets ensuring their customers can get the high-quality British food they want at a price they can afford."
Consumer Minister Edward Davey said:
"We want to make sure that large retailers can't abuse their power by transferring excessive risks or unexpected costs onto their suppliers. These sorts of pressures are bad for producers and bad for consumers - ultimately they can lead to lower quality goods, less choice and less innovation.
"The Adjudicator will be able to step in to prevent unfair practices continuing - ensuring a fair deal for producers and safeguarding the consumer interest."
These proposals to establish the GCA as set out in consultation response will require primary legislation. The Department for Business will be seeking Parliamentary Business and Legislation Committee approval to publish a draft Bill later this year with the intention of bringing forward a Bill in the second Session.
Published 3 August 2010