News story
Government responds to early student loan repayment consultation
In a consultation document published last June the Government asked whether there should be a charge for early repayment, and if so, what form…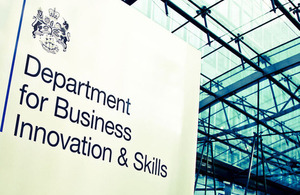 In a consultation document published last June the Government asked whether there should be a charge for early repayment, and if so, what form such a charge would take. Most respondents did not favour the introduction of a charge.
Business Secretary Dr Vince Cable said:
"We have listened to the evidence from those who responded to the consultation and as a result we will not be introducing a charge on early repayments.
"Our student finance package is fair, sustainable and progressive and will remain so without a charge for early repayment."
Universities and Science Minister David Willetts said:
"This decision gives students beginning their studies this autumn clarity about the repayment arrangements that will be in place when they graduate.
"It is also clear from the consultation that the ability for graduates to make voluntary repayments on their student loans is valued. We will be working closely with the Student Loans Company and others to give clear advice and guidance on early repayment."
Notes to editors
---
Notes to Editors
Contact Information
Name BIS Press Office Job Title
Division COI Phone
Fax
Mobile
Email NDS.BIS@coi.gsi.gov.uk
Name Michael Gibbs Job Title
Division Department for Business, Innovation and Skills Phone 020 7215 1635 Fax
Mobile
Published 23 February 2012