Government reflects on progress made and reforms to come in Mid-Term Review
The government has issued a Mid-Term Review, taking stock of the progress made in implementing the coalition agreement signed in May 2010.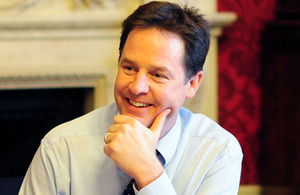 The Mid-Term Review reflects on the government's progress in building a stronger, more balanced economy and a fair society in which everyone, no matter what their background, can rise as high as their aspirations and talents can take them.
It also highlights a new set of reforms to secure our country's future and help people realise their ambitions. These include supporting working families with childcare costs, building more houses to make the dream of home ownership a reality for more people and two big reforms to provide dignity in old age; an improved state pension that rewards saving, and more help with the costs of long-term care.
The Mid-Term Review is available here.
View the story "Mid-Term Review - progress so far" on Storify
Published 7 January 2013