News story
Government receives the first report of the Sandwich Economic Development Task Force
"This report is the first step towards developing viable, long term prospects for the future of the Sandwich site. "Pfizer and the Government…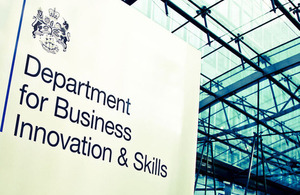 "This report is the first step towards developing viable, long term prospects for the future of the Sandwich site.
"Pfizer and the Government now have the responsibility of mapping out a way forward to retain the skills and knowledge of the Pfizer workforce and support the wider East Kent community.
"I want to thank Paul Carter and the Task Force for their collaborative work and commitment and I look forward to considering how to take forward the recommendations with my Ministerial colleagues."
Notes to editors
BIS' online newsroom contains the latest press notices, speeches, as well as video and images for download. It also features an up to date list of BIS press office contacts. See http://www.bis.gov.uk/newsroom for more information.
Notes to Editors
Contact Information
Name BIS Press Office Job Title
Division COI Phone
Fax
Mobile
Email NDS.BIS@coi.gsi.gov.uk
Name Michael Gibbs Job Title
Division Department for Business, Innovation and Skills Phone 020 7215 1635 Fax
Mobile
Published 15 March 2011