Government publishes White Paper on the Overseas Territories
First review of the Overseas Territories since 1999 focuses on security, success and sustainability.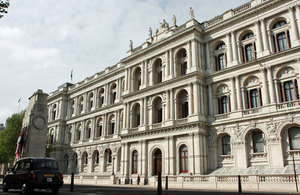 The UK Government renews and strengthens Britain's relationship with the Overseas Territories today with the publication of its White Paper, The Overseas Territories: Security, Success and Sustainability.
Foreign Secretary, William Hague said:
"Today's White Paper is the first review of the Overseas Territories since 1999 and it demonstrates the importance the Coalition Government attaches to the Overseas Territories.
"As well as having a responsibility to ensure the security and good governance of the Territories, we want the Territories to be vibrant, flourishing communities that proudly retain aspects of their British identity.
"We appreciate the remarkable diversity of the Territories, each with their own specific attributes, opportunities and challenges. This White Paper is designed to meet these challenges, to set out ways we can support the Territories and strengthen our engagement with them. It is another major milestone in our long and shared history, and I hope it will mark a new era of engagement between Britain and the Overseas Territories."
This White Paper focuses on three goals: strengthening engagement between the UK and the Territories; working with the Territories to strengthen good governance, public financial management and economic planning where this is necessary; and improving the quality and range of support available to the Territories.
The White Paper was developed across government departments and in consultation with the people and governments of the Territories. In the year in which Britain and the Territories celebrate the Diamond Jubilee of Her Majesty The Queen, it sends an important signal of long-term engagement.
The Overseas Territories are incredibly diverse; they include thousands of small islands, vast areas of ocean, but also, in Antarctica, land six times the size of the United Kingdom. They include one of the world's richest communities, in Bermuda; and the most remote community, in Tristan da Cunha. They are internationally recognised for their exceptionally rich and varied natural environments. They are home to an estimated 90% of the biodiversity found within the UK and the Territories combined and include two of the world's largest Marine Protected Areas.
Published 28 June 2012