Government response
CSPL statement on PACAC's report on public appointment process
Committee on Standards in Public Life welcomes PACAC report into the public appointments process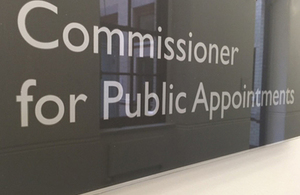 We welcome the Public Administration and Constitutional Affairs Committee's report and their recognition of the continued relevance of the Nolan principles to public confidence in these appointments. Like the Committee, we welcome the Government's greater emphasis on diversity and transparency but believe it is vitally important that there is sufficient independent scrutiny to safeguard the propriety of the process and provide public assurance that appointments are not made on the basis of personal or political patronage. We will take a close interest in the government's new Code and its implementation.
Published 11 March 2016
Last updated 7 July 2016
+ show all updates
Response to latest developments
The Committee has now published its response to Sir Gerry Grimstone's report on public appointments.
First published.