Press release
Government proposes longer lorries to help cut carbon
Consultation proposes allowing increase in length of articulated lorries to try to cut carbon amounts.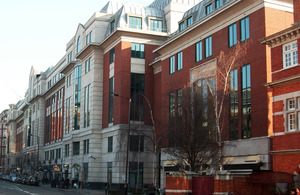 Some lorries could be allowed to use longer trailers after independent research showed that this could cut carbon without compromising safety. The research is being published today by Roads Minister, Mike Penning, alongside a consultation seeking views on the proposed changes.
Today's consultation proposes allowing a 2 metre increase in the total length of articulated lorries operating within the existing weight limit of 44 tonnes. This would take the maximum permitted length of an articulated lorry to 18.75 metres but would not allow any increase in overall weight. The Department for Transport estimates that this move could increase capacity for hauliers transporting lightweight goods by up to 13% and cut carbon emissions by around 100,000 tonnes each year.
Mike Penning said:
The road haulage industry is vital to the economy, making goods and services accessible across the country.

These proposals would allow haulage firms to use one larger truck where previously they may have needed to send 2 vehicles. This will help to make our haulage industry cleaner and greener as well as allowing businesses greater flexibility without compromising safety.

I hope that everyone with an interest in this issue will take time to look at this consultation and let us know their views on this proposed change.
The proposed changes would make the total permitted length for articulated lorries 18.75 metres; the maximum length for lorries using a truck and drawbar trailer is 18.75 metres. The government has ruled out any further increase in length.
As there is no proposed increase in weight there is not expected to be any additional pressure on road surfaces caused by the proposed increase in length.
Details of the consultation and study
Notes to editors
In 2006, DfT commissioned research into the potential effects of longer, heavier vehicles (LHVs) including longer semi-trailers - Longer and/or longer and heavier goods vehicles (LHVs).The research EAS completed in 2008 and highlighted a number of drawbacks that make the introduction of significantly longer and heavier vehicles (ie typically 25.25 metres long) - those beyond the existing limits of 18.75 metres length and 44 tonnes gross vehicle weight (GVW) - impractical on either a permanent or a trial basis in the UK. Consequently, the government has ruled out the introduction of this type of LHV for the foreseeable future.
The report also indicated that there could be benefits from permitting a small increase in the length of current articulated vehicles while remaining within both the overall permitted weight and the dimensions already permitted for rigid truck / drawbar trailer goods vehicles.
In June 2009, DfT therefore commissioned a further study into the feasibility and impacts of allowing longer semi-trailers to operate within the British road haulage market, within the existing weight limit of 44 tonnes GVW. The primary objective was to establish whether the introduction of longer semi-trailers would deliver overall economic, environmental and societal benefits or disbenefits.
Current UK regulations limit the maximum loading length of semi-trailers to 13.6 metres. The study has considered 2 main possibilities: increasing this by up to one metre to 14.6 meters in total, or increasing it by up to 2.05 metres. The latter option would increase the maximum permitted loading length of a semi-trailer to 15.65 metres, which would provide the same loading length as an existing rigid truck / drawbar trailer combination. This represents the greatest increase that could be permitted under EU rules without having to accept the longer, 25.25 metre combination vehicles into the UK.
The study has concluded that while an increase of one metre could produce some benefits, there are potentially very significant advantages in allowing 15.65 metre semi-trailers. At this length the semi-trailer would have to be equipped with a steering system to meet existing manoeuvrability requirements. The study has also concluded that overall, the benefits from maintaining existing construction standards are greater than those that would be gained from tighter standards, which would effectively rule out conventional rear steer technology.
Press enquiries: 020 7944 3118
Out of hours: 020 7944 4292
Public enquiries: 0300 330 3000
Published 30 March 2011