Government "open for business" as new barrier busting service launched
Decentralisation Minister Greg Clark today launched a new service designed to help volunteers, community groups and social enterprises overcome…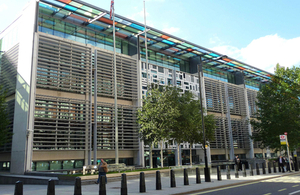 Decentralisation Minister Greg Clark today launched a new service designed to help volunteers, community groups and social enterprises overcome bureaucracy and get things done in their neighbourhood.
Many people have ingenious and innovative ideas for how they could make their street, town or village a better place to live. There is a long tradition of community action across the country, with local groups who do everything from cleaning up street litter, to running community centres, to investing in small-scale green energy.
In some cases, however, would-be volunteers or social entrepreneurs feel that bureaucracy holds them back - whether it's bye-laws, health and safety rules, or planning regulations. In some cases, discussion with the council can resolve problems locally, but in others the only way is for central government to take action.
From today, councils, community groups, local institutions and individuals who need central government's help to get rid of barriers can submit a request through the web at http://barrierbusting.communities.gov.uk (external link). Everyone who submits a query, will be given an individual number to track the progress of their request and the contact details of a named person they can talk to from a dedicated team of "barrier busters" - senior civil servants in the Government who will help find ways to let local people take control.
Greg Clark said:
As a Minister I have a team of Civil Servants to turn my ideas into action. But if you believe, as I do, that most of the best ideas come from people in communities, then I think they should have the help that Ministers enjoy.

Local people often have brilliant ideas and are keen to get involved in making their neighbourhood a better place.  Government rules and regulations should be there to support them - not stand in their way.

The barrier busting service is there to find practical solutions and give local people's enthusiasm and commitment free rein. This is about turning government on its head.

Instead of Whitehall telling authorities what to do, central government will be listening to councils and communities and helping them achieve their own ambitions - whether that's by cutting red tape, amending regulation to be less burdensome, or creating new local discretion over how taxpayers' money is spent.
The Government is also publishing an action plan which describes what it is already doing to lift barriers in response to requests made by councils and communities under the Sustainable Communities Act 2007. It is inviting councils to talk to their communities again, under the terms of the Act, about what needs to be done to improve local life - and to submit fresh ideas of how government can help unlock local ambitions.
Mr Clark also said that the chance to request change under the Act should not be a "one off" opportunity for councils, and that there will no longer be deadlines or timelines for them to submit barriers.
Councils who ask for change using the terms of the Act that cannot be solved by the barrier busting team will have the chance to turn to a panel of experts from local government, who will engage with central government on the most serious barriers to localism.
The Action Plan from the first Sustainable Communities Act is the result of a list of 312 barriers short-listed by the Local Government Association in 2009. Today, the Action Plan sets out how the government is responding. Proposals included:
Doncaster, Liverpool and Sheffield all wanted greater local control of Post Offices. Today, a pilot in Sheffield may produce lessons relevant to all three councils.
Poole asked for a reduction in ringfencing of local government grants. The Comprehensive Spending Review created significant new local discretion in finances.
Wirral wanted it to be easier for local communities to take control of assets. Measures in the Localism Bill are designed to achieve this.
Mr Clark also set out three main changes to the Sustainable Communities Act to make it less bureaucratic, more flexible and ultimately better at putting power in local hands. They are:
Removing timetables that dictated when and how councils could put up requests.
Consulting on the role of 'selector'. Last time around, proposals were sent to the LGA - not the Government - who sifted and prioritised the requests that came in.
Extending the invitation to community groups through the new barrier busting service.
Steve Shaw, National Co-ordinator of Local Works, the coalition that campaigned for the Sustainable Communities Act to become law, said:
Thousands of people in hundreds of council areas have already engaged with the Sustainable Communities Act by putting forward proposals to government. This democratic involvement was fantastic to see. We thank Greg Clark and his department for dealing with all the proposals made so far under the Act expeditiously.

We welcome his intention to extend the invitation for proposals to community groups, his establishment of an ongoing process through this invitation and his plan to consult on revising the role of the 'selector'. I urge communities and councils to engage now in this exciting new form of 'bottom up' governance.
Notes to editors
1. The new barrier busting web address is http://barrierbusting.communities.gov.uk (external link).
2. The first invitation of the Sustainable Communities Act was issued by the previous Government on 14 October 2008. It called for local authorities to submit proposals which they believed would improve the social, economic or environmental well-being of their local area, but would need the Secretary of State's assistance to make happen.
3. The Government has today decided proposals submitted by local authorities in 2009 under the Sustainable Communities Act 2007. We have placed these decisions in the Library of the House and online at
http://www.communities.gov.uk/publications/communities/scadecisions. The 'Sustainable Communities Act 2007' can be seen here: http://www.legislation.gov.uk/ukpga/2007/23/contents (external link).
4. 100 local authorities submitted proposals to the Local Government Association, appointed as 'selector', in July 2009. They presented a short-list of 199 proposals - containing over 300 separate requests - to the previous government in December that year.
5. The proposals being taken forward under the Act echo the Localism Bill, which will give people more say, more choice and more ownership of their local services.
6. The Government will consult in the New Year on regulations which will govern the relationship with a revised 'selector', who will have the opportunity to engage with the Secretary of State on barriers that cannot be removed.
7. Common barriers to community action include:
Business In the Community's survey of 320 members suggests 80 per cent say they can do more to support communities, but are held back by red tape.
Restrictions cited include Criminal Records Bureau checks on volunteering.
Rules that prevent welfare claimants from taking part-time jobs or longer work placements.
Competition laws that prevent businesses from collaborating on sector-wide initiatives.
Health and Safety regulation.
Public Liability Insurance and Catering licences running stalls at events.
CRB checks.
Red tape on smaller organisations.
Twitter
Keep up to date with the Department by following us on Twitter (external link).
Media enquiries
Visit our newsroom contacts page for media enquiry contact details.
Published 15 December 2010