World news story
Government of UK announces awards for development impact
DevTech Award acknowledges entrepreneurs and innovators that have used technology to provide solutions for critical development challenges.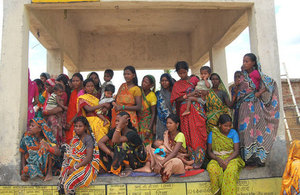 The British High Commission today announces the launch of DevTech Awards - a new award that recognise entrepreneurs who create innovative solutions that benefit people from low-income population in India.
Launched in association with Tech Rocketship Awards, the DevTech Awards are aimed at entrepreneurs and innovators who have used technology to address some of the most critical development challenges faced by India's poor and create a positive, large scale impact on areas such as education, skills, agriculture, nutrition and basic services.
The United Kingdom's Department for International Development (DFID) is leading this initiative as technical partner while Villgro leading as implementing partner will manage the process of receiving applications, shortlisting, facilitating the pitching sessions of shortlisted entrepreneurs to a jury who will select two winners.
Marshall Elliott, Head of DFID India, said:
I am delighted to announce the DevTech Awards in India. These awards recognise India's vibrant entrepreneurs who have developed tech-based solutions to help India's poor. The winners will have the opportunity to showcase their work at the forthcoming India-UK Tech Summit, alongside the best of British and Indian technical experts.
DevTech winners will win a trip to the UK, which will include access to the best of British expertise and a chance to pitch to potential investors at India-UK TECH Summit in Delhi between 7 and 9 November 2016.
We encourage applications from entrepreneurs who have used innovative and scalable tech solutions to improve lives and provide livelihoods for India's low-income population.
For eligibility criteria, please visit Villgro website or follow link here. The closing date is October 15, 2016.
Further information
the UK is partnering with the Confederation of Indian Industry (CII) for this year's India-UK TECH Summit being held in Delhi in November 2016. The summit will be an opportunity to explore even closer UK-India cooperation across many fields including Government of India's key initiatives such as Start-up India, Make in India; Smart Cities Mission and Digital India.
The India/UK TECH Summit will demonstrate the depth of India-UK partnerships in business, innovation, research, education and entrepreneurship, with the biggest showcase of British expertise and commitment to strengthening relationships in every sphere.
It will also host a major delegation from the UK, highlighting the UK's capabilities across important sectors like smart cities, healthcare, advanced manufacturing, agri-tech, education and skills.
The summit will host a major exhibition of UK-India technological collaboration and, excitingly, a Hackathon organised by Barclays Rise, where young Indian students, entrepreneurs and tech-professionals will participate in a competition to find a solution to a specially-posed technical problem.
the Tech Rocketship Awards is an initiative by the UK's Department of International Trade (DIT) in India, aimed at identifying India's top young entrepreneurs and providing them with expert business advice and support to help them go global through the UK.
This year's awards were launched in April by Their Royal Highnesses, The Duke and Duchess of Cambridge at a high profile business event in Mumbai. Now in its third year, the competition has had a record number of applications with over 600 start-ups vying to be one of ten winners of an all-expense paid business development trip to the UK.
Stuart Adam, Director,
Press and Communications
British High Commission,
Chanakyapuri, New Delhi 110021
Tel: 44192100; Fax: 24192411

Mail to: Anshuman Atroley
Follow us on Twitter, Facebook, Flickr, YouTube, LinkedIn, Storify, Eventbrite, Blogs, Foursqare, Instagram, Vine, Snapchat @UKinIndia, Persicope @UKinIndia
Published 30 September 2016