News story
Government launches new programme to make UK global partner of choice for R&D collaboration
The Therapeutic Capability Clusters programme will develop three-way partnerships between the life sciences industry, clinicians and academics…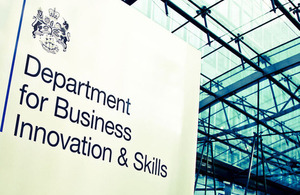 The Therapeutic Capability Clusters programme will develop three-way partnerships between the life sciences industry, clinicians and academics. Collaborations will involve our best researchers in the NHS and academia working with industry researchers on promising new drugs and interventions. Together they will develop the best approaches to run experimental medicine studies and find novel ways to treating or diagnosing a whole range of inflammatory diseases.
Today's announcement saw the launch of the first phase of this unique programme, establishing the first two clusters in inflammatory respiratory disease (such as asthma and Chronic Obstructive Pulmonary Disease (COPD)) and in joint and related inflammatory diseases (such as arthritis).
These clusters are the first in the world to be established around specific therapy areas. They will help to ensure that the UK's world-class capabilities are harnessed so that experimental research is translated faster into innovative treatments that make a difference to people's lives and help us to achieve our aim of having world-class health outcomes.
By providing a single point of contact for industry engagement, patient access and intellectual excellence, these clusters will help to ensure the UK has the commercial and cultural environment to support strong collaboration and to maintain and grow world-class private sector R&D in the UK.
During his speech Mr Willetts also announced plans by the Medical Research Council (MRC) to invest more than £10m in consortia in two disease areas, complementing the Therapeutic Capability Clusters programme.
The MRC/ABPI Inflammation and Immunology Initiative represents the first phase of a new approach in funding by the MRC, bringing together academics and industry at the early R&D stages to develop a stratified approach to disease (targeting the right treatments to the right people), enabling effective clinical trials as well as identifying novel biomarkers, mechanisms and targets.
Minister for Universities and Science David Willetts said:
"As Government works to rebalance and grow the UK economy, it is vital that the UK continues to be an attractive environment and the global partner of choice for collaboration in life sciences.
"These Therapeutic Capability Clusters are a world first and I am hugely excited by the potential they and the MRC/ABPI Inflammation and Immunology Initiative offer for UK R&D and our delivery of innovative medicines to patients faster in areas of unmet medical need."
Health Minister Lord Howe said:
"These clusters build on the substantial investment in the NHS infrastructure for translational research, over £160million per year, that my Department makes available through the National Institute for Health Research.
"By pulling advances in basic science through into new ways of diagnosing and treating joint and respiratory disease, these two clusters will make a difference to the lives of thousands of patients in the NHS."
The Ministers made the announcement while speaking at the BioIndustry Association (BIA) and the Association of the British Pharmaceutical Industry (ABPI) conference "Our vision for a new decade".
Developed with industry under the Office for Life Sciences, the Therapeutic Capability Clusters programme is being overseen by the Office for Strategic Coordination of Health and Research (OSCHR).
Notes to editors:
Therapeutic Capability Clusters**
The Department for Business, Innovation and Skills and the Department of Health worked (under the Office for Life Sciences) in partnership with industry to develop the Therapeutic Capability Clusters (TCC) programme.
Professor Sir John Bell, Chairman of the OSCHR Board and Regius Professor for Medicine at the University of Oxford said:
"I am very impressed at how the clusters have worked together to produce a concept that has excited industry and can provide a real opportunity to generate interest in early phase clinical research. I am enthusiastic about the added value, research excellence and innovation that the clusters will provide in their collaborations with industry."
Dr Richard Barker, Director General of the ABPI and co-chair of Capability Cluster Delivery Oversight Group (CCDOG), said:
"The Capability Clusters initiative promises to create true comparative advantage for the UK in translational medicine, and so attract increased inward investment from the global pharmaceutical industry. We are excited about supporting this programme."
Nigel Gaymond, Chief Executive of the BioIndustry Association said:
"The Capability Clusters will make it easier for small companies to identify the leaders in specific disease areas and access the world-class expertise the UK has in the NHS and academia. This is another indication of why the UK is one of the world's key locations for investment in life sciences."
MRC/ABPI Inflammation and Immunology Initiative
The consortia would include the following academic and industry partners:
Academic Partners: University of Leicester, Imperial College London, University of Nottingham, University of Manchester, University of Southampton, University College London, University of Newcastle, University of Sheffield, Royal Brompton Hospital, University of Birmingham, University of Edinburgh, Kings College London, University of Glasgow, University of Birmingham, Queen Mary's, University of London, University of Leeds.
Industry Partners: AstraZeneca, GSK, Johnson & Johnson, Merck, Novartis, Pfizer, Amgen and UCB Celltech.
Sir John Savill, MRC CEO, said:
"This is an exciting new way of working between the MRC and industry to accelerate research discoveries and bring these from laboratory bench to patient bedside more quickly. The MRC/ABPI Inflammation and Immunology Initiative fits hand in glove with the Therapeutic Capability Clusters programme and will focus on complementary research areas, it is similarly well aligned with the recently announced Technology Strategy Board Stratified Medicines Initiative to which the MRC has contributed £1.5m."
For more information please contact Paul Conroy, BIS Press Officer, on 020 7215 5303 or email: paul.conroy@bis.gsi.gov.uk **

BIS' online newsroom contains the latest press notices, speeches, as well as video and images for download. It also features an up to date list of BIS press office contacts. See http://www.bis.gov.uk/newsroom for more information.
Notes to Editors
Contact Information
Name BIS Press Office Job Title
Division COI Phone
Fax
Mobile
Email NDS.BIS@coi.gsi.gov.uk
Published 25 October 2010