Government launches new counter proliferation strategy
The Government has launched its new National Counter Proliferation Strategy ahead of the Nuclear Security Summit in Seoul on 26-27 March.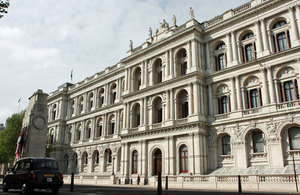 Agreed by the National Security Council, it has three key objectives: to deny terrorists the materials and expertise to make and use weapons of mass destruction; to stop countries such as Iran and North Korea from obtaining WMD or advanced conventional weapons; and to build up the IAEA, UN and other organisations and treaties that help us meet our objectives through the international community and which serve to underpin global security and prosperity.
The next key event is the Nuclear Security Summit in Seoul on 26-27 March. Deputy Prime Minister Nick Clegg will represent the UK, alongside 52 other countries. Speaking before leaving for Seoul, he said:
"Nuclear terrorism is now a real and global threat. Two years ago President Obama hosted a groundbreaking summit in Washington, where delegates joined his campaign to 'lock down nuclear material' over four years. We are now halfway through and next week's summit will be crucial in maintaining momentum.
"The UK has a key part to play next week. We've been leading on one of the most innovative and important elements of the summit: the security of nuclear information. As time's gone on, it's become clearer that tackling the nuclear threat isn't just about controlling nuclear material. We also need to protect the information terrorists could use to acquire that material, turn it into a bomb, and mount an attack."
Speaking about the strategy, Foreign Office Minister for Counter Proliferation Alistair Burt said:
"This strategy is already driving huge amounts of activity. In the last couple of months we have secured agreements in the EU, IAEA and elsewhere to keep up the pressure on Iran over its nuclear ambitions; continued to work with Libya to deal with the weapons legacy of Qadhafi's regime; and played a major role in negotiations towards a legally binding treaty to regulate the global arms trade."
Published 23 March 2012