News story
Government launches fund to help London Met students
The fund will help legitimate students to meet additional costs they may incur by moving to another institution to finish their studies. These…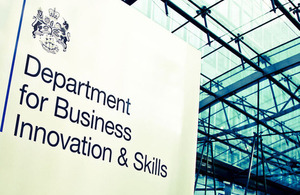 The fund will help legitimate students to meet additional costs they may incur by moving to another institution to finish their studies. These include: covering the cost of any fee for a repeat visa application and discretionary payments to cover, for example, lost deposits on accommodation due to having to move somewhere else to study.
The fund is worth up to £2million. It responds to concerns raised by the task force set up by the Department for Business, Innovation & Skills (BIS) to support London Met in helping genuine students to find another institution at which they can continue their studies in the UK.
Universities Minister David Willetts said:
"It is important that genuine students who are affected through no fault of their own are given as much help as possible to continue their studies in the UK.
"This fund will help offset the extra costs students face in transferring to another institution and also help to put students' minds at ease at what must be a very stressful and unsettling time."
The Minister announced the fund speaking at the annual Universities UK conference at Keele Univeristy.
**Notes to editors:
**1. Following the UK Border Agency's decision on 29 August to revoke London Metropolitan University's licence to sponsor non-EU students, the Universities Minister, David Willetts, announced the formation of a task force to support students affected by the decision.
The task force is led by Sir Alan Langlands, Chief Executive of the HEFCE, and brings together representatives from the Department for Business, Innovation and Skills (BIS), Universities UK, the UK Border Agency, London Metropolitan University and the National Union of Students.

The aim of the task force is to support London Metropolitan University to find suitable alternative courses with other higher education providers for legitimate and appropriately qualified students, so that they can continue their studies in the UK.

For more information about the task force, see http://www.hefce.ac.uk/news/newsarchive/2012/name,75258,en.html ). nStudents affected by the revocation decision who need advice are asked to contact the London Metropolitan University helpline on 0207 133 4141 or email **international@londonmet.ac.uk. **UK Border Agency staff are on site at the University to provide advice via the helpline and student support team. The UK Border Agency Contact Centre number is 0870 606 7766.

The Government's economic policy objective is to achieve 'strong, sustainable and balanced growth that is more evenly shared across the country and between industries.' It set four ambitions in the 'Plan for Growth' (PDF 1.7MB), published at Budget 2011:
To create the most competitive tax system in the G20

To make the UK the best place in Europe to start, finance and grow a business

To encourage investment and exports as a route to a more balanced economy

To create a more educated workforce that is the most flexible in Europe.
Work is underway across Government to achieve these ambitions, including progress on more than 250 measures as part of the Growth Review. Developing an Industrial Strategy gives new impetus to this work by providing businesses, investors and the public with more clarity about the long-term direction in which the Government wants the economy to travel.
BIS's online newsroom contains the latest press notices and speeches, as well as video and images for download. It also features an up to date list of BIS press office contacts. See [http://www.bis.gov.uk/newsroom](http://www.bis.gov.uk/newsroom) for more information.
Notes to Editors
Contact Information
Name BIS Press Office Job Title
Division Department for Business, Innovation & Skills Phone
Fax
Mobile
Email bispress.releases@bis.gsi.gov.uk
Name Emma Griffiths Job Title
Division Department for Business, Innovation and Skills Phone 020 7215 5982 Fax
Mobile
Published 13 September 2012