Government kicks off consultation to help strengthen sport across the country
Consultation to ensure public funding goes to organisations that can get more people participating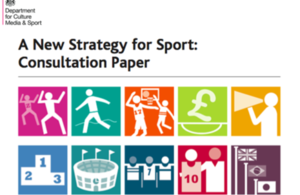 Sports Minister Tracey Crouch has today launched a wide-ranging public consultation on sport in the UK.
The government wants to hear from interested groups and the public - people who are involved in sport and people who aren't - on what more can be done to use sport to help improve many more lives.
On top of the health benefits from participating, sport brings people together, contributes billions to the economy every year and enhances Britain's reputation on the world stage.
Sports Minister Tracey Crouch said:
"Sport has such a positive impact on people's lives and I want to embed participation into this nation's DNA. I want to make sure that the sports sector gives everybody - no matter who they are and what their ability - the chance to take part. However public funding is a privilege not a right and has to go to the organisations that can make a real difference. I want to hear views from people and groups on what more we can do to strengthen sport in this country across the board."
The Sports Minister is also keen that Britain continues to enjoy elite success following a great three years post London 2012.
Tracey Crouch added:
"Britain has punched above its weight in elite sport in recent years with fantastic results but we can not be complacent. I want sport to do all it can to bring on the next generation of talent so that the nation continues to enjoy success and inspirational performances."
London 2012 was an incredible success and a high point for British sport. It showed that the UK has an elite sport system to rival any nation in the world after the incredible record medal haul from Team GB and ParalympicsGB athletes. It also inspired many to get out there and give sport a go, with 1.4 million more people participating now than when the bid to host the Games was won in 2005.
However there are challenges to address to help further improve sport in this country. Sports participation figures have declined recently and the government wants to ensure that public funding is targeted at those organisations who can deliver in encouraging people to get involved in sport and physical activity.
The consultation sets out 10 broad themes that the government wants to engage with the public on. The themes are as follows:
Participation Physical Activity Children and Young People Financial Sustainability Coaching, Workforce and Good Governance Elite and Professional Sport Infrastructure Fairness and Equality Safety and Wellbeing International Influence and Major Sporting Events
The public consultation will run for just under nine weeks, from 4 August until Friday October 2. It marks the start of the government working on a new strategy for sport in this country.
The sports sector and interested public can access the consultation paper, including an online response form via the www.gov.uk website.
Notes to Editors:
For further information please call the Department for Culture, Media and Sport press office on : 020 7211 6000
Latest figures from Sport England (for the 12 months to March 2015) show that there are 15.49 million adults (aged 16 plus) participating in sport every week. This is up from 14.08 million since October 2006.
However sports participation numbers have declined since October 2012, where 15.9 million people were participating every week.
Sport England invests over £1 billion of public funding over five years (exchequer and lottery combined) to fund community sport and encourage participation.
Published 4 August 2015