News story
Government joins forces with industry to tackle late payment
Members of the Small Business Economic Forum (SBEF) have all signed an agreement to work together to develop new measures to ensure that payments…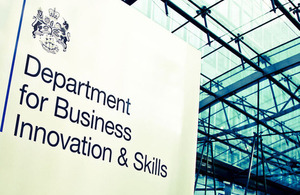 Members of the Small Business Economic Forum (SBEF) have all signed an agreement to work together to develop new measures to ensure that payments are secured and made on time.
Business and Enterprise Minister and Chair of the SBEF Mark Prisk said:
"Large firms have a responsibility to ensure their suppliers are paid on time. These payments are vital to businesses in the supply chain which rely on contracts with larger firms to thrive and need confidence that they can plan for the future without worrying that payments will be late.
"Working with industry bodies to encourage their members to sign the Prompt Payment Code and commit to making payments on time is a significant step forward. We mustn't be complacent and stop here but I hope to see businesses across the country joining us to help ensure payments are reaching suppliers on time."
Philip King, Chief Executive of the Institute of Credit Management said:
"Collaboration across businesses and with the support of Government is critical to tackling the vital importance of prompt payment, which is why we have been proud to host and administer the Government's Prompt Payment Code. Prompt payment and treating suppliers fairly needs to become part of our business culture, and the benefits of therefore becoming a 'preferred customer' more clearly communicated and understood.
"Our advice, and the message in our Managing Cashflow Guides published with BIS, is that suppliers should not be bullied into accepting unfavourable terms from their customers, and that they should negotiate payment as part of the bigger trading relationship."
Phil Orford, Chief Executive of the Forum of Private Business said:
"Late payment forces businesses to close, plain and simple. Ensuring small firms are paid on time and in full is key to their future growth and prosperity, and also to the UK's economic prospects.
"We need more large companies at the top of the supply chain to commit to the principle of prompt payment, to understand that squeezing their suppliers out of business ultimately means less choice for customers, but small business owners also have a responsibility to address late payment by implementing cash flow management as a standard business processes.
"We are providing the advice, guidance and support entrepreneurs need, backing this statement and supporting the Government's drive to help smaller firms know their rights and understand there are measures they can embrace to minimise the problem of late payment, while also working with large firms to encourage a culture of prompt payment."
The statement signed by the SBEF encourages their members to:
Proactively agree payment terms before delivering orders.

Raise complaints over late payment from Prompt Payment Code signatories and use legislation already in place to pursue late payers.

Use electronic invoicing where possible.

Follow the advice in Get Paid!, a recent guide for small business which contains tips and hints for suppliers and customers.
To date 1,115 businesses have signed up to the prompt payment code. Government is working with businesses of all sizes to encourage them to sign up to the code.
**Notes to editors:
**1. Businesses can sign up to the Prompt Payment Code now at http://www.promptpaymentcode.org.uk/
The Government is leading the way by ensuring that its suppliers are paid on time. Since 2011, the Cabinet Office has made it a condition of goods and services contracts that payment is made up to tier 2 subcontractors within 30 days. In the Construction Sector this has been extended further with payment down to tier three subcontractors within 30 days. Any companies experiencing problems with payment on government contracts, either directly or through the supply chain, can use the Cabinet Office Mystery Shopper scheme to make an anonymous complaint and trigger an investigation by the Cabinet Office. In the construction and facilities management sectors, the Government is rolling out the use of Project Bank Accounts: legally ring-fenced and protected bank accounts for government contracts from which payments are made directly and simultaneously to all participating members of the supply chain.

Independent analysis by Experian suggests that current signatories to the Code represent over 60 per cent of total UK supply chain value.

BIS paid 93.6 per cent of invoices within five days in December last year, and averaged 95 per cent across the year.

The Association of Chartered Certified Accountants (ACCA), Experian, the Forum of Private Business and the Institute of Credit Management (ICM) have published a new guide to ensure prompt payment, aimed at owners and managers of small businesses. Get Paid! forms part of the four partners' activity to encourage prompt payment, working together with the Department for Business, Innovation and Skills (BIS) and the private sector.

Business Representative Organisations signed up to the Joint Commitment Statement on Prompt Payment are:
ABFA (Asset Based Finance Association)

BBA (British Banking Association)

BCC (British Chambers of Commerce)

FLA (Finance and Leasing Association)

FPB (Federation of Private Business)

ICM (Institute of Credit Management)

FSB (Federation of Small Business)

CBI (Confederation of British Industry)

IOD (Institute of Directors)

BVCA (British Venture Capital Association)
The Government's economic policy objective is to achieve 'strong, sustainable and balanced growth that is more evenly shared across the country and between industries.' It set four ambitions in the 'Plan for Growth' (PDF 1.7MB), published at Budget 2011:
To create the most competitive tax system in the G20

To make the UK the best place in Europe to start, finance and grow a business

To encourage investment and exports as a route to a more balanced economy

To create a more educated workforce that is the most flexible in Europe.
Work is underway across Government to achieve these ambitions, including progress on more than 250 measures as part of the Growth Review. Developing an Industrial Strategy gives new impetus to this work by providing businesses, investors and the public with more clarity about the long-term direction in which the Government wants the economy to travel.

BIS's online newsroom contains the latest press notices and speeches, as well as video and images for download. It also features an up to date list of BIS press office contacts. See http://www.bis.gov.uk/newsroom for more information.
Notes to Editors
Contact Information
Name BIS Press Office Job Title
Division Department for Business, Innovation & Skills Phone
Fax
Mobile
Email bispress.releases@bis.gsi.gov.uk
Name Dan Palmer Job Title
Division Department for Business, Innovation and Skills Phone 020 7215 5303 Fax
Mobile
Published 2 August 2012