Press release
Government invests £5.3 million in leading-edge bioscience
Cutting-edge synthetic biology companies received a boost today with a £5.3 million government cash injection.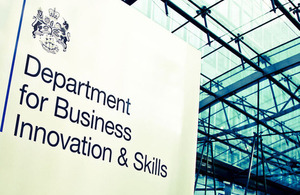 Cutting-edge synthetic biology companies received a boost today with a £5.3 million government cash injection. The investment from the Technology Strategy Board and Research Councils will help to fund 15 projects across the UK.
Synthetic biology applies the principles of engineering design to biological systems and processes. Scientists believe that it may lead to new applications, such as novel systems for energy and chemicals production, medical therapies, biological computers and innovative ways to clean up hazardous waste.
One of the companies to benefit from the government funding is Synthace, who are based at University College London. Synthace use micro-organisms to convert small molecules into different, more useful products. The aim is to produce high value chemical products, such as bases for fragrances and air fresheners, from cheap industrial feedstocks such as rapeseed oil.
Speaking during a visit to Synthace, Universities and Science Minister David Willetts said:
Synthetic biology is one of eight key technology areas that I have identified as playing an increasingly important part in the global economy over the coming years. The UK is well positioned in the biological sciences sector and is among the first economies in the world to invest in this exciting area of technology.
Companies like Synthace can help the UK exploit the massive potential that synthetic biology has both here and abroad. By making investment in technology now, it will ensure that in ten years time the UK is at the forefront of the global race when it comes to commercialising new technologies.
Synthace's CEO, Sean Ward, commented:
This funding will enable us to bring together a unique suite of technologies for the rapid engineering of a micro-organism which can produce a commercially high-value chemical. The project will demonstrate a new way of engineering biology, with timescales in months rather than years, which will impact sectors across the UK and global economies.
The Minister announced grants totalling £5.3 million which were awarded through a competition for business-led, collaborative projects aimed at demonstrating the feasibility of using synthetic biology to create novel or improved products or processes.
Funding came from the Technology Strategy Board, the Biotechnology and Biological Sciences Research Council (BBSRC) and the Engineering and Physical Sciences Research Council (EPSRC). Each of the applications was also assessed according to a series of responsible innovation criteria.
Iain Gray, Chief Executive of the Technology Strategy Board, said:
Synthetic biology is an emerging technology that can play a really important part in the UK's economy. Our aim in supporting these projects is to help bring together a range of organisations that together, with our help, can develop the products and processes to ensure that the UK remains at the forefront of this sector.
Synthetic biology, although a newly-emerging technology, is already bringing commercial success to UK companies. TMO Renewables, for example, who received funding previously from the BBSRC, developed a 'thermophilic (heat-loving) microorganism' – hence 'TMO' – to efficiently convert carbohydrates into ethanol fuel from a wide range of non-food feedstocks at high temperatures. In 2010, the company announced a deal with Fiberight where the TMO technology would be used in 15 plants to be built in the USA for the production of bioethanol from household waste.
Notes to editors
1.Grants have been awarded to the following projects:
Use of synthetically engineered bacteriophages for antibacterial therapy. Lead partner: Cambimmune – Cambridge.
Feasibility study on application of synthetic biology approaches to high yield production of Mycosporine-like Amino Acids for use as UV-protectants. Lead partner: Croda – Goole, East Yorkshire.
Rapid engineering of cellular factories. Lead partner: Synthace Ltd – London.
Novel genetic tools for application in insect pest control. Lead partner: Oxitec – Oxford.
Production of chitosans for use in food and personal care products. Lead partner: Unilever (R&D Colworth) – Bedford.
Pathway engineering for sustainable aromatic chemicals. Lead partner: Celbius Ltd – Cambridge.
Genomic-scale metabolic modelling to optimise high value biomanufacturing. Lead partner: Ingenza – Edinburgh.
Use of Synthetic Biology methods to enhance and optimise production of a novel antibiotic. Lead partner: Demuris – Newcastle.
Promoters for Improved Protein & Biopharmaceutics Production in Mammalian Cells. Lead partner: Synpromics – Edinburgh.
Enhanced discovery and scalable synthesis of therapeutic cyclic peptides. Lead partner: Ingenza – Edinburgh.
Engineering immune-cell-targeting bacteria to express vaccines from within the body. Lead partner: Prokarium – Keele and London.
A synthetic biology-based approach to engineering triterpenoid saponins and optimisation for industrial applications. Lead partner: Unilever (R&D Port Sunlight) – Wirral.
Engineering a Novel Bacterial Host for Biobutanol Production. Lead partner: Green Biologics – Didcot.
Synthetic Biology to Improve Antibiotic Production. Lead partner: GSK – Ware.
Ligniflex: A synthetic biology platform to optimise the process and products of enzymatic ligning disruption. Lead partner: Ingenza – Edinburgh.
2.Synthace is the UK's first dedicated synthetic biology company with a world leading platform of technologies for the rapid engineering and optimisation of novel biological production systems. A spin out of University College London, Synthace is already producing high-value research and development products for the pharmaceutical, agrochemical and fine chemicals industry. Synthace bioengineering is enabled by a tight integration of computational modelling and big data analysis with wet lab experimental design and validation, and novel molecular biology tools. While Synthace bioengineering is broadly applicable across multiple industry sectors, the company is focused towards applications in the production of specialty chemicals. More information is available at www.synthace.com.
3.The Technology Strategy Board is the UK's innovation agency. Its goal is to accelerate economic growth by stimulating and supporting business-led innovation. Sponsored by the Department for Business, Innovation and Skills (BIS), the Technology Strategy Board brings together business, research and the public sector, supporting and accelerating the development of innovative products and services to meet market needs, tackle major societal challenges and help build the future economy. For more information please visit www.innovateuk.org.
4.The Biotechnology and Biological Sciences Research Council (BBSRC) invests in world-class bioscience research and training on behalf of the UK public. Our aim is to further scientific knowledge, to promote economic growth, wealth and job creation and to improve quality of life in the UK and beyond. Funded by government, and with an annual budget of around £500M (2012-2013), we support research and training in universities and strategically funded institutes. BBSRC research and the people we fund are helping society to meet major challenges, including food security, green energy and healthier, longer lives. Our investments underpin important UK economic sectors, such as farming, food, industrial biotechnology and pharmaceuticals. For more information about BBSRC, our science and our impact see: www.bbsrc.ac.uk.
For more information about BBSRC strategically funded institutes see: www.bbsrc.ac.uk/institutes.
5.The Engineering and Physical Sciences Research Council (EPSRC) is the UK's main agency for funding research in engineering and the physical sciences. EPSRC invests around £800 million a year in research and postgraduate training, to help the nation handle the next generation of technological change. The areas covered range from information technology to structural engineering, and mathematics to materials science. This research forms the basis for future economic development in the UK and improvements for everyone's health, lifestyle and culture. EPSRC works alongside other Research Councils with responsibility for other areas of research. The Research Councils work collectively on issues of common concern via Research Councils UK. For more information, visit: www.epsrc.ac.uk.
6.The government's economic policy objective is to achieve 'strong, sustainable and balanced growth that is more evenly shared across the country and between industries'. It set four ambitions in the 'Plan for Growth' (PDF 1.7MB), published at Budget 2011:
To create the most competitive tax system in the G20
To make the UK the best place in Europe to start, finance and grow a business
To encourage investment and exports as a route to a more balanced economy
To create a more educated workforce that is the most flexible in Europe.
Work is underway across government to achieve these ambitions, including progress on more than 250 measures as part of the Growth Review. Developing an Industrial Strategy gives new impetus to this work by providing businesses, investors and the public with more clarity about the long-term direction in which the government wants the economy to travel.
Published 7 March 2013