News story
Government, FA and Premier League combine to boost football's grassroots
DCMS, FA, and Premier League to invest in more grassroots facilities across the country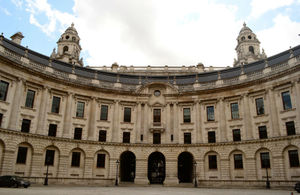 The Government, The FA and the Premier League have committed to joining forces to build more state of the art 3G pitches in 150 sport hubs across 30 cities over the next five years.
Last December the Government announced that it would invest an additional £50 million into football's grassroots over the next five years - with £8 million a year going into facilities and £2 million going into coaching.
The FA agreed to match-fund this investment with £50 million going into facilities over the next five years.
The Premier League has committed to invest in facilities as a funding priority through to at least 2019.
Sports Minister Helen Grant, Premier League Chief Executive Richard Scudamore and FA Chairman Greg Dyke made the announcement on a visit to the Evelyn Grace Academy school in South London that boasts a 3G facility.
The government, Premier League and FA's investment will be in addition to the £102 million funding already going into the Premier League and FA Facilities fund over three years from 2013/14, that is administered by the Football Foundation.
The move follows FA chairman Greg Dyke's second part of his 'England Commission' report last October that proposed an overhaul of grassroots facilities in England. It proposed building more 3G artificial pitches to create a new sustainable approach so that the sport is less reliant on local authority subsidies.
The plan involves building 150 sport hubs in 30 of England's largest cities, increasing the number of full-size, publicly accessible 3G pitches in England by 50 per cent to over 1,000.
A pilot is underway in Sheffield, with construction of the first football hubs due to begin in the Spring. However today the government and football authorities urged other cities in England to consider if they want to be a part of the project.
Minister for Sport Helen Grant said:
"I am delighted that the Premier League is to join forces with the Government and the FA to back this fantastic initiative. Artificial 3G pitches are brilliant for community sport and can support schools and local teams – encouraging participation and helping develop the next generation of talent.
"The Government's £50 million will not only help build these pitches but also help more women, people from a BME background and primary school teachers get coaching qualifications."
Premier League Chief Executive Richard Scudamore said:
"The government's initiative is brilliant news for the grassroots of the game and we will work with them as a committed partner to ensure that the scheme is implemented as rapidly as possible.
The clubs, when meeting yesterday, identified grassroots facilities as one of their five key strategic priorities, with detailed funding commitments to be announced towards the end of the year."
FA Chairman Greg Dyke said:
"We have identified grassroots facilities as a major priority for The FA, along with coaching and coach education.
"The FA, Premier League and Government already give £12m a year to the Football Foundation for improving facilities across the country. Under this agreement The FA are also committing to spend another £10m a year on city hub sites across England.
"It is great that our idea for hubs up and down England is being backed by both Government and the Premier League, and that we are also being supported by Government through our coach education strategy with a £2m grant, which we are matching, that will enable us to specifically target more female, BAME and financially disadvantaged coaches from across England."
Devon Hanson, Principal at Evelyn Grace Academy, said: "We're passionate about sport here at Evelyn Grace Academy and it is fantastic to hear that schools and sports clubs across the country will have access to 3G pitches like the one we use here.
"Sport is an incredibly important part of our work – through PE offered at Evelyn Grace Academy, many of our gifted and talented pupils have found the drive, discipline and inspiration to achieve amazing things, with some now playing in national squads."
The government's £2 million a year investment into coaching will pay for new coach educators, two new bursary programmes to support at least another 100 women and 100 additional BME coaches to gain FA qualifications, as well as increasing the number who take Level 2 and Youth Award badges. The investment will also help 6,000 primary school teachers a year undergo formal FA accredited training.
Published 27 March 2015