News story
Government encourages women to pursue positions on sports' boards
Government hosts its second high-powered networking event aimed at inspiring businesswomen to join sports' boards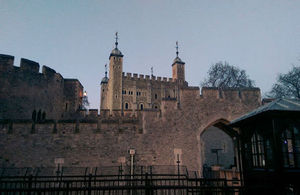 More than 120 senior sports administrators and businesswomen gathered at the Tower of London on Wednesday 11 March for an event designed to encourage more women with a corporate background to take up positions on sports' boards.
The government-organised event, hosted by the England and Wales Cricket Board's Head of Women's Cricket, Clare Connor, was an opportunity for women from organisations including Clifford Chance, Bank of America and Google to meet senior individuals from a wide range of sports organisations to discuss how working together could prove beneficial.
Guests were further treated to a panel discussion chaired by Helena Morrissey (Newton Investment Management), with Jennie Price (Sport England), Liz Nicholl (UK Sport), David Gregson (LTA) ,Bill James (Triathlon England), Leigh Hine (PSD Group) and Karen Neale (England Athletics) discussing a wide range of topics.
The key message from the day was that not only sportswomen or those that have experience in the sector are successful candidates for sports' boards.
Case studies of women that have made the move from the corporate sector to sports' boards were handed out at the event.
Minister for Sport and Tourism, Helen Grant, said:
"Sport plays a vital role in the economy and culture of the UK and female athletes are increasingly matching and surpassing their male colleagues in the medal counts.
"But it is equally important to have women represented in the boardrooms, and I want to see more women on the boards of governing bodies to really help shape sport.
"Their skills, knowledge and talents, whether it be from a sport or corporate background, are hugely valuable."
Follow the conversation on Twitter using #WoSB15
Case Studies
Johanna Lloyd, Sport Wales Board
After studying law at the University of Nottingham and University of Texas, Johanna Lloyd trained as a lawyer at global law firm Clifford Chance LLP. She worked for them in London and New York and enjoyed advising on and managing large transactions across multiple jurisdictions, though she didn't enjoy the long hours so much! Deutsche Bank was a major client of Clifford Chance and so Johanna decided to move in house to continue working on cutting edge challenging work while improving her work/life balance.
Looking for a change, after eight years of investment banking, Johanna took a job as general legal counsel to one of Barclays' businesses based in Cardiff, which offered loans to consumers. Shortly after joining Barclays, a board position at Sport Wales was advertised. Johanna's sister forwarded the application for the Sport Wales Board role saying "you could do this". It really made her realise that though she didn't know everything about sport, she still had skills that would be of benefit to a sports' board.
"If you have run a business, advised on a marketing campaign, undertaken event management you have the skills a board could use!" Johanna describes her corporate background as a benefit rather than a weakness. "It doesn't matter if you don't know the sector. If you are prepared to listen and learn, you'll be successful. I was very open about the fact that I didn't know everything about sport –I was brought onto the board to provide an external lens".
It's not just that Johanna brings another perspective to the Board, she also gets to learn from others. "The skills that you use in the business environment are exactly the same as the skills you use on a sports board. The difference in sector was a more significant difference that the different skillset used. It has broadened my understanding and experience, which I can utilise in other areas of my career."
Johanna is really passionate about Sport Wales' community sport agenda – ensuring every child has access to good quality sport provision - and believes we all have a responsibility to serve our community through using our skills in the best possible way.
Johanna believes it is absolutely critical to ask for advice about the decisions you are making in your career. "Build a network of people who know your strengths and your flaws and who will be honest with you." Further to this, she believes that sponsors are vital to success in any organisation. "I have definitely had sponsors in my career – people who have put their own political capital or reputation at risk for my benefit."
Johanna has 5 areas of advice for aspiring Board members: Be a leader: women are often quite uncomfortable in calling themselves a leader but you have to want to lead to be on a Board. Be confident: There are lots of good books and courses about how to be a good Board member. Do some research mainly to build your own confidence that you can do this. Be passionate: If you are going to commit to a Board in addition to your day job, pick something you're excited about. When you've had a long day at work and you're sitting down to Board papers in the evening you need to passionate about the subject matter. Be resilient: you may not succeed the first time, or the second time, or the third. But keep going. And finally - Be yourself!
Jutta af Rosenborg, Non-Exec Director, PGA European Tour
After studying for her Master's in Business, Economics and Auditing at the Copenhagen Business School, Jutta af Rosenborg began her career as a StateAuthorised Public Accountant. She went on to be the Chief Financial Officer for International Pharmaceutical company, PLC, in Denmark, who have subsidiaries around the world. A key turning point in Jutta's career, and an important part of her progression to a board position, was when she decided to change her career as an Auditor/Consultant and became an Executive Manager. The most important knowledge she gained from this experience was about managing international companies (and thereby different cultures), how to work strategically and think about implementation of that work, and the importance of internal as well as external communication.
A crucial part of Jutta's move to a Board position was working on various relevant body boards. Since 1998, Jutta has worked for a wide range of organisations. In 1998 Jutta became the President of The Seamen's Club of 1856, which owns a large property in Christianshavn, Copenhagen, with some 100 tenancies occupied by seamen and she is still the President to this day. In the same year Jutta became Vice Chairman of Rungsted Primary School, a role she kept until 2006. Between 2000 and 2004 Jutta was a representative of The Confederation of Danish Industry on the Accounting Committee in Denmark as well as on the Accounting Panel – an advisory body of The Danish Business Authority. Her varied experience on these boards and keeping in contact with executive search companies were an important part of Jutta's career path. It was in fact an executive search company that contacted her about the PGA European Tour role.
Jutta did not go specifically after a sport position but when she was approached about the position at PGA European Tour she said she "found it very tempting working with the combination of Sport and Business and as I am fascinated about golf I found it was the perfect match to combine this with the knowledge and experience I have gained over the years from my other board positions."
Jutta also says that "the world of sport and the world of business can be seen as very different - but when it comes to the bottom line - it is all about getting the most out of it for the benefit of the stakeholders/ shareholders".
Jutta describes her husband and her friends as her mentors going through her career and says that her father always taught her that "women can do just as well as men!" Jutta recommends that women looking for board positions should put themselves forward more. "Keep close contact to the executive search companies, make yourself known through speeches, articles or alike and know what your edge is - what will be your contribution to the board?"
Nicola Palios, Independent Director, British Rowing
Nicola was educated in a northern comprehensive school and went on to read law at Oxford University, which led naturally into a legal career. She qualified as a barrister in England and as an Advocate in Jersey, where she worked for 20 years. "I had wanted to be a barrister ever since watching Crown Court on TV as a 5 year old!" Over the years, Nicola moved from practising law to become manager at Mourant, ultimately becoming CEO of a group which had a multi-national law firm, fund administration and private wealth management businesses, with 1,200 staff in 10 jurisdictions.
Nicola was a junior & U23 international rowing cox, an Oxford Blue, and is a fan of both football and rugby. Her father has, for many years, been on the Rugby Football Union Council, and Nicola saw the enjoyment (and challenges) that he gets from it. All of the above are part of what made her consider a different path when Mourant sold most of the business in 2010. "I decided that from then on I would like to do a portfolio career, comprising some consultancy work with two or three NED positions.
A sporting board position was particularly high on the agenda as I have always loved sports." When deciding to take a change in direction and move to a sports' Board, Nicola tailored her CV to ensure that it highlighted relevant transferable skills (in her case, law, governance, change management, stakeholder management etc.), she made head-hunters aware of her availability and scoured the appointments section of the main newspapers.
After 12 months, the British Rowing opportunity came up and they were specifically looking for someone with a legal and risk background, which suited Nicola perfectly.
While Nicola did have relevant sporting experience for British Rowing, she thinks that "nowadays NGBs recognise that a balanced board needs a skills mix and that it can be beneficial to have "outsiders" bringing fresh views and experiences."
In terms of the difference between the corporate and sport sectors, Nicola says "The stakeholder environment on sports boards can often be more complex than on normal commercial boards, because you are trying to balance an art form (i.e. the sport) with the business, and the organisation does get a lot of public scrutiny…" "… This is particularly true of football clubs, where the supporters can and do give very frank feedback very publicly!"
When considering applying for a sports' Board position Nicola would give the following advice: "Set yourself a clear target of where you want to get to. Look at your CV and see if you have skills which are particularly relevant – and if you do, highlight them, rather than expecting the reader to deduce them.
And finally, do your homework on the sport you are targeting - make sure you have a good understanding of what issues the board are likely to be grappling with and you can articulate them. It's not enough just to know a lot about the sport itself – you need to show a real understanding of what the issues are for the Board."
Sarah Smart, Non-Exec Director, UK Athletics
Sarah Smart studied Classics at Oxford University and moved to Scotland on completion of her degree. She trained as a Chartered Accountant and then moved into Investment Management. In 2004, Sarah became a member-nominated trustee of the Standard Life Staff Pension Scheme which gave her experience of governance and operating in a non-executive capacity.
In 2006, she became Chair of the Trustees for the Macmillan Cancer Support Pension Scheme and joined the Board of Nisus Scotland. All of these were alongside her day job and Sarah describes them as invaluable in helping her be appointed to Board positions. Since 2008 Sarah has been fully self-employed as a non-executive and consultant and in 2010 she was appointed Chair of the Pensions Trust.
In 2012, Sarah jumped at the chance to join the UK Athletics Board: "The role fitted perfectly with my requirements of wanting to do something useful and something that was really enjoyable".
Building networks was instrumental in Sarah's move to UK Athletics "I applied for a role in the paper in 2008. I wasn't successful in that instance, but met the headhunter who was running the search to discuss my experience. Four years later he rang me about the UKA job! He had heard about me from a number of my Board colleagues". So remember your networks and how they can be working for you behind the scenes many years later.
Sarah doesn't feel that her lack of sporting background was a hindrance when moving to a sports Board, "We have a mix of people with sporting experience and those with business experience on our Board and we all work very well together. I think the skills you need are the same; getting up to speed with new information quickly, thinking strategically, challenging constructively and communicating effectively".
Furthermore, she feels that it is important to remember that the differences you have to other Board members, really help the Board as a team ensure that decisions have been fully thought through before being acted upon.
When asked what inspired her in her career, Sarah said "Most importantly, I like to finish the day feeling I have made a valuable contribution to society in some way, rather than that I have got through my to do list and earned some money. I choose my positions carefully to ensure they give me this."
Sarah's words of advice for aspiring Board members are: "Plan early – it is important to build up experience and this isn't done overnight. Pro bono roles are really useful for building up experience, and if you choose a cause that you feel strongly about the sense of reward you get from it is enormous." And… "Nurture your network – it is more important than you could ever imagine.
But this doesn't mean keeping up with people you don't like or get on with because of their position – life is too short to spend with people whose company you don't enjoy."
Published 16 March 2015