Press release
Government draws up action plan for fuel of the future
Government considers how anaerobic digester technology can provide a green energy boost for Britain.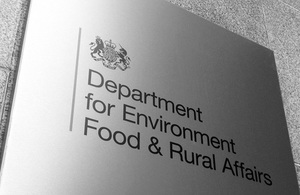 Lord Henley at BiogenGreenfinch's Westwood plant (click to play video on YouTube)
Environment Minister Lord Henley has toured an anaerobic digester, as the Government considers how such technology can provide a green energy boost for Britain. 
During the fact-finding trip to Northamptonshire, Lord Henley saw how the cutting-edge plant transforms out-of-date supermarket food into electricity. 
BiogenGreenfinch's Westwood plant, near Rushden, can process 45,000 tonnes of food waste each year which generates enough electricity to power nearly 3,000 homes. Most of the electricity is sold to the National Grid. 
The visit took place as the Government is drawing up an action plan examining how to achieve a huge increase in anaerobic digestion across the country. 
Lord Henley said: 
"Today I've seen first-hand how food scraps and out-of-date supermarket food is a valuable resource that can generate energy - rather than rubbish to be thrown away. 
"As we strive to be the greenest government ever, this is exactly the type of technology we should be looking at, particularly as it cuts greenhouse gas emissions. 
"We've already had constructive discussions with industry, farmers and the financial sector. Teams at Defra and DECC (Department for Energy and Climate Change) are now working hard to produce an action plan to examine how we can take practical steps to achieve a step change in the use of anaerobic digestion." 
The Government held roundtable talks earlier this month with representatives from business, farming, the financial sector and experts from the anaerobic digestion sector to discuss how to move forward with the plans. 
Defra and DECC will jointly draw up an action plan by the autumn, looking at the economic capacity for the anaerobic digestion industry and the steps to be taken by Government and industry to realise this ambition. 
Notes 
Facts about the Westwood Anaerobic Digestion plant near Rushden, Northamptonshire: 
Can process 45,000 tonnes of food waste each year producing 1.7 MW of renewable electricity, sufficient for 2,700 homes.  
Produces 35,000 tonnes of a superior liquid biofertiliser, enough to support 1,750 acres of growing crop.
Opened in June 2009.
Over 90% of the electricity produced is sold to the National Grid.
Takes domestic food waste from households and food waste from commercial outlets, retailers and food producers, including household names such as Sainsbury's, Waitrose and Whitbread. The company is currently working with 14 local authorities across the country.
Anaerobic digestion is a process for turning food, farm and other organic waste into energy and fuel. The UK produces about 100 million tonnes of this waste each year which could instead generate up to 7% of the renewable energy required in the UK by 2020. 
Biomass waste such as animal manure, sewage sludge and waste food can be digested in the absence of oxygen to produce a methane-rich biogas which can be used to generate heat and power for industry and homes, or to provide a transport fuel.  The biogas can be upgraded to biomethane which is potentially suitable for injection into the National Gas Grid. 
Anaerobic Digestion can be carried out in a small scale system, for example located on a farm, or at a business producing large volumes of food waste.  Alternatively it can be carried out in large centralised systems, for example at sewage treatment works, or to treat municipal food waste, or manures and slurries from several farms. 
The diversion of biodegradable wastes to anaerobic digestion can reduce greenhouse gas emissions from landfill.  Digesting one tonne of food waste rather than sending it to landfill will save between 0.5 and 1 tonne of CO2 equivalent. 
There are currently around 37 anaerobic digestion plants in the UK using food and farm waste, with around 60 planned or under construction.  A further 220 water treatment plants have anaerobic digestion facilities for sewage.
Published 21 July 2010