Government delivers better access to business mentors
Government has made significant progress in promoting business mentoring in the last year.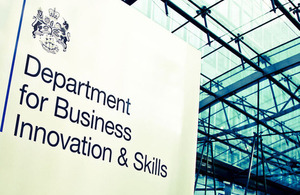 3 Jul 2012
---
---
The government drive aims to:
Help people find a business mentor
Increase the number of mentors available, and
Improve information about mentoring to help UK businesses to grow.
Work began in July last year when the Department for Business and the British Bankers' Association (BBA) launched Mentorsme.co.uk, the national mentoring portal. Since then, the number of mentoring organisations on the portal has risen from 42 to over 100. Through them, there is now access to around 11,000 mentors. The site is proving popular: the BBA's statistics show there were over 100,000 visits to the site in the last year.
Over 12,000 people have now volunteered as business mentors, signing up to the Small Firms Enterprise Development Initiative's (SFEDI) Get Mentoring scheme. Over 7,000 people have been trained. They are now being encouraged to become part of mentoring organisations on the mentorsme portal and start mentoring through their own networks.
Big businesses like Hewlett Packard and Mott MacDonald have launched new schemes to recruit volunteer business mentors, in collaboration with the Enterprise and Diversity Alliance (EDA).
Government aims to have a network of 26,000 mentors by September 2012. To sign up to Get Mentoring visit www.getmentoring.org and to find out about finding a business mentor, visit www.mentorsme.co.uk.
Business and Enterprise Minister Mark Prisk said:
"A year ago, we pledged to encourage more people to use a business mentor and to increase the supply of volunteer mentors recruited from the business community, which we have achieved.
"The government remains committed to working with partners to develop the network of business mentors, who contribute so much to the growth of the small business community. There is still much work to be done, and we have aspirations to recruit and train thousands more business mentors who can help companies grow and boost the UK economy."
Links
Published 3 July 2012