Government crackdown on rogue truckers
Immobilised lorries, buses and coaches to be charged £80 by VOSA to release their vehicles.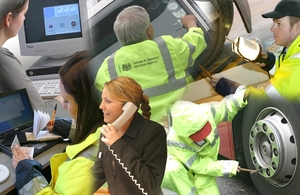 Commercial vehicle operators whose lorries, buses and coaches are immobilised because they pose a threat to road safety will be charged £80 by VOSA to release their vehicle from today (7 June 2011).
VOSA immobilise vehicles that are found to have a serious mechanical defect, when the driver has been working dangerously long hours or where there has been a failure to pay a fixed penalty deposit.
The introduction of the release fee means that those who commit the most serious breaches of the rules will now contribute to the cost of enforcement.
VOSA Operations Director Alex Fiddes said:
Britain has some of the safest roads in the world but dangerous vehicles and drivers put lives at risk and we are committed to tackling this menace.

VOSA immobilises dangerous vehicles and issues graduated fixed penalties and deposits to drivers - but it is right that those who commit the offences contribute more to the cost of enforcement.

Charging operators a release fee is a further deterrent to those who flout the rules and will help to level the playing field for law-abiding operators.
Unlike fixed penalty notices, it will be vehicle operators who are liable to make the payment, and not drivers.
VOSA examiners will be able to process card payments at the roadside or payment can be made by telephone by calling 0300 123 9000.
An immobilisation notice will contain full details for the operator's records and vehicles will have to have any defects corrected before they are allowed back on the road.
For more information on immobilisation visit our Roadside vehicle checks for commercial drivers.
Notes to editors
VOSA is responsible for:
processing applications for licences to operate lorries and buses and registering bus services
operating and administering testing schemes for all vehicles, including the supervision of the MOT testing scheme
enforcing the law on vehicles to ensure that they comply with legal standards and regulations
enforcing drivers' hours and licensing requirements
supporting Traffic Commissioners to help them make informed decisions on operator licensing, vocational drivers and bus registration requirements
providing training and advice for commercial operators
investigating vehicle accidents, defects and recalls
VOSA media enquiries
You should contact our press office if you have a media query or you're a journalist.
Published 8 July 2011