Press release
Government confirms 2016 start for new flat rate State Pension
A new, simpler flat rate State Pension will be introduced in April 2016, the Government has announced.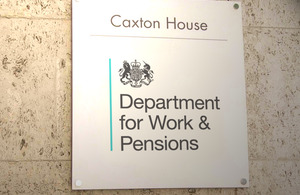 Following the positive response to January's White Paper on the new single tier State Pension, Ministers have decided the reforms can be delivered in 2016.
By starting a year earlier than proposed in the White Paper, around 400,000 more people will reach State Pension age under single tier, including every woman affected by the acceleration of the equalisation of the State Pension age.
Minister for Pensions Steve Webb said:
Our reforms will create a simple, decent State Pension, which is set above the basic means test sooner. The new State Pension will be fairer to the low-paid, the self-employed and carers and make it easier for people to understand what they will get from the State when they reach State Pension age.

By introducing single tier in 2016, every woman affected by the changes we have made to the State Pension age in this parliament will also now have access to the new State Pension.
The single tier pension, which remains the same as was outlined in the White Paper, will work alongside the rollout of automatic enrolment into workplace pensions to encourage more people to save for their retirement.
Notes to Editors:
A copy of the Written Ministerial Statement can be found here: http://www.parliament.uk/business/publications/hansard/commons/todays-written-statements/
The new single-tier system will be simpler because it abolishes the old two-tier system, closing the State Second Pension and ending contracting out. This means people will pay the same rates of NICs and in return they get the same pension.
HMRC is reviewing time limits on paying voluntary National Insurance contributions for people who will receive a single tier State Pension so that, if they delay paying voluntary contributions until they can get clear information about their single-tier entitlement they will not lose out.
Acceleration of the State Pension age was part of the Pensions Act 2011.
Published 19 March 2013