News story
Government Chemist invited back to allergen management workshop
Michael Walker was invited back to present at an annual two day seminar on allergen management and advanced testing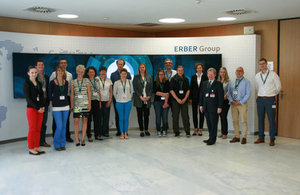 Michael Walker, Consultant Science Manager for the Governement Chemist programme, was invited to present again at an annual two day seminar on allergen management and advanced testing in Austria on 7 and 8 June 2017.
The seminar, organised by Claudia Graf of Romer Labs, part of the Erber Group, was attended by scientists and managers from food manufacturers and analytical service labs in Austria, Germany, Italy, Latvia and Lithuania.
Michael delivered two sessions, 'Food Allergy – Challenges & Developments' and 'EU-Regulation 1169/2011 on allergen labelling for non-prepacked food' at the Erber Group headquarters in Getzersdorf, and took part in panel discussions at Romer Labs in Tulln.
Other speakers included:
Dr Rachel Ward who provided key insights into allergen management in the food industry,
Professor Sabine Baumgartner from the University of Natural Resources and Life Sciences Vienna, who spoke on the fundamentals and practice of immunochemistry and mass spectrometry applied to allergen analysis, and
Adrian Rogers, senior research scientist with Romer Labs who described the validation of allergen ELISA methods.
The workshop provided a good opportunity to network with scientists dealing with allergen management across Europe.
The Government Chemist team is regularly invited to speak at and be involved in allergen management workshops; earlier in 2017 Michael Walker represented the GC programme at an international event on food fraud and food allergy. This is a reflection of the pioneering research and development work carried out by the GC team.
Government Chemist
Queens Road
Teddington
TW11 0LY
Published 6 July 2017