News story
Government boosts UK manufacturing
Vince Cable announces the UK's first Technology and Innovation Centre to drive growth and help industry capitalise on the UK's world class research.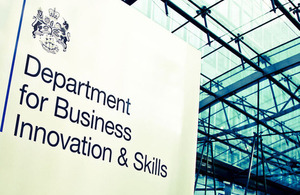 Today's announcement is a key part of the Government's Growth Review, targeting the expansion of Britain's manufacturing sector and positioning the UK as Europe's leading exporter of high value goods.
The Government is investing over £200 million to create an elite network of Technology and Innovation Centres.
The first Technology and Innovation Centre (TIC) will focus on High Value Manufacturing. It will be formed from a group of research and technology facilities from across the country, with Rotherham, which the Deputy Prime Minister and Secretary of State for Business visited today, one of the centres of excellence.
The new TIC will provide an integrated capability and embrace all forms of manufacture using metals and composites, in addition to process manufacturing technologies and bio-processing. It will draw on excellent university research to accelerate the commercialisation of new and emerging manufacturing technologies. The seven centres are:
Advanced Manufacturing Research Centre (Rotherham)
Nuclear Advanced Manufacturing Research Centre (Rotherham)
Manufacturing Technology Centre (Coventry)
Advanced Forming Research Centre (University of Strathclyde)
National Composite Centre (University of Bristol)
Centre for Process Innovation (Wilton & Sedgefield)
WMG (University of Warwick)
Business Secretary Vince Cable said;
"Manufacturing is vital to the country's economic stability and our potential to achieve growth.
"It generates £140 billion a year, accounting for 55 per cent of total UK exports - but it has considerably greater potential. That's why I am throwing my weight behind this package - to help Britain reach its potential.
"The investment in the new centre will further bridge the gap between universities and businesses, helping to commercialise the outputs of Britain's world-class research base."
Research and UK manufacturing
The Government also announced additional support for manufacturing today.
An extra £7million so that the Manufacturing Advisory Service can specifically focus on supply chain development, in addition to the £50m already announced for the delivery of MAS over the next three years. The reformed MAS will be available from 1 January 2012.
Nine new university-based Centres for Innovative Manufacturing are to be established with Government funding of £45 million through the Engineering and Physical Sciences Research Council (EPSRC). These new centres will combine inventive research and business acumen to develop the sorts of innovative ideas taken forward to commercialisation through Technology and Innovation Centres.
New Fellowships offering up to 5 years of support for researchers who have the potential to be future manufacturing research leaders in their field.
Links
Published 17 March 2011