News story
Government begins sale of its shares in Lloyds Banking Group
Government sells 6 per cent of shares in Lloyds Banking Group, at 75p per share.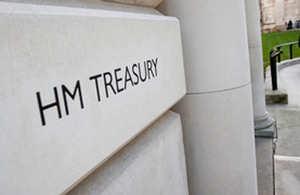 The government has today begun the process of selling part of its shares in Lloyds Banking Group. It has sold 6 per cent of the shares in the bank, at a price of 75p per share.
A profit has been made from the sale, which will be used to pay down the national debt.
The Chancellor received advice from UK Financial Investments yesterday that it would be appropriate to begin the process to sell part of the government's shareholding in Lloyds. The Chancellor agreed with that advice and authorised the process to begin.
Today marks an important step in the government's plan for the recovery of Britain's banking system.
The Chancellor, George Osborne, said:
I can confirm this morning that we have sold 6% of Lloyds Bank at 75p a share. That is a profit for taxpayers, and rightly so. The money will be used to reduce the national debt by over half a billion pounds.

This is another step in the long journey in putting right what went so badly wrong in the British economy; it's another step in repairing the banks; it's another step in getting the money back for the taxpayer; and it's another step in reducing our national debt.

All of those things together are good news.

If you look at what has happened over the last 12 hours with Lloyds, you have investors from around the world investing in a British bank. That is a sign the British economy is turning a corner.
Published 17 September 2013