News story
Government-backed science and innovation vital for securing Britain's industrial future
In a major speech at the University of East Anglia, David Willetts will argue that Government has a creative role to play in working with researchers…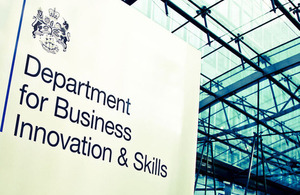 In a major speech at the University of East Anglia, David Willetts will argue that Government has a creative role to play in working with researchers, universities and business to promote innovation and get the greatest possible economic value.
As part of this approach David Willetts will announce:
The Biotechnology and Biological Research Council will invest £250 million in leading research institutes across the UK
Government will invest up to £6.5 million to encourage businesses to explore new industrial applications for synthetic biology, through the Technology Strategy Board and research councils
The Engineering and Physical Sciences Research Council (EPSRC) will provide a grant of almost £5 million to Imperial College London, Kings College London, Cambridge, Edinburgh and Newcastle to establish platform technology for synthetic biology
The EPSRC will fund its first ever manufacturing fellowships - there will be four, each worth around £1 million
The Government Office for Science will review and refresh the Foresight report on Technology and Innovation Futures: UK Growth Opportunities for the 2020s.
David Willetts will also set out the action Government is already taking as part of its high-tech strategy, including creating incentives for business to invest in innovation and improving access to publicly-funded research. He will say:
"There are some basic steps we can take which are far more effective than I imagined two years ago. We set up a leadership council probably co-chaired by a BIS minister and a senior industry figure in which researchers, businesses perhaps regulators and major public purchasers come together. We use it to get them talking to each other frankly. Then we commission a trusted expert to prepare a technology road map which assesses where the relevant technologies are heading over the next five years or so, what publicly funded research is going in to drive it, and what business is likely to do. Just this exercise, with no increase in public funding, can transform behaviour."
David Willetts will also set out the importance of agricultural research and technology, in parallel to industrial strategy:
"Compare Apple and the tomato. Apple is one of the great innovators. A lot of sophisticated science and engineering goes into an iPad or an iPhone. We like to think of the humble tomato as vey different. But the modern tomato is equally the product of generations of scientific advance which has developed genetic traits that give it the colour, taste, and shape we want as well as the capacity to stay ripe for longer. Since January this year, according to Google Scholar, well over 1,000 academic publications on tomato genetics have been published. We should all be a bit more willing to take pride in this scientific achievement rather than ignore it."
David Willetts will conclude:
"We are not detached and above the fray. Instead we are engaged, creative and constructive… We are backing the risk takers, and are willing to take a risk ourselves. As Government is an insurance pool we can take bigger risks than any other player."
**
Notes to editors:**
Despite enormous pressure on public spending, the £4.6bn per annum funding for science and research programmes has been protected in cash terms and ring fenced against future pressures during the four years of the spending review period.

On top of the £1.9bn capital funding announced as part of the Spending Review, Government has since announced a further £595m of capital investment in science.

The UK is a world leading research base. UK scientists have been awarded over 70 Nobel Prizes for their scientific achievements. Four of the world's top ten universities for clinical, pre-clinical and health subjects are in the UK: Oxford (ranked 1), Imperial College (ranked 3), Cambridge (ranked 4) and University College London (ranked 7) (Times Higher Education World University Rankings 2012).

The Norwich Research Park (NRP) is an important and successful research cluster in life and environmental sciences, employing 11,000 staff including over 2,700 scientists and with an additional student population exceeding 14,000. It is home to four institutes, a university, a teaching hospital and a growing number of small companies. An analysis of the most highly scientists in the UK over the past 20 years reveals that Norwich is ranked 4th after London, Cambridge and Oxford (Thomson Reuters 2009). The John Innes Centre and The Sainsbury Laboratory are ranked 1st worldwide in a survey of 88,700 institutions ranking the most influential papers in the last 10 years in plant and animal sciences.

The UK produces the highest number of science, mathematics and computing graduates annually in the EU.

The UK is the leading country in the G8 for research productivity. It produces more publications and citations per researcher and per pound of public funding than any of its major competitors

The UK is responsible for 8 per cent of world publications and has a global share of the most cited papers of 14 per cent.

A copy of the Foresight Technology and Innovation Futures report can be found at http://www.bis.gov.uk/assets/bispartners/foresight/docs/general-publications/10-1252-technology-and-innovation-futures.pdf

BIS's online newsroom contains the latest press notices, speeches, as well as video and images for download. It also features an up to date list of BIS press office contacts. See [http://www.bis.gov.uk/newsroom](http://www.bis.gov.uk/newsroom) for more information.
Notes to Editors
Contact Information
Name BIS Press Office Job Title
Division Department for Business, Innovation & Skills Phone
Fax
Mobile
Email bispress.releases@bis.gsi.gov.uk
Name Sally Catmull Job Title
Division Department for Business, Innovation and Skills Phone 020 7215 6577 Fax
Mobile
Published 24 May 2012