News story
Government approves Gloucestershire installation to allow for more gas imports
The Government today gave the go-ahead for a new gas installation at Tirley in Gloucestershire, which will help boost UK energy security by …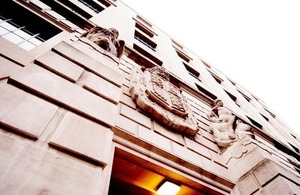 The Government today gave the go-ahead for a new gas installation at Tirley in Gloucestershire, which will help boost UK energy security by allowing for more gas imports.
Energy Minister Charles Hendry said:
"This Government is committed to ensuring we maintain secure energy supplies. A vital part of this is having a diverse energy mix: renewables, nuclear, coal with Carbon Capture and Storage and gas all have an important part to play.
National Grid's new Gas Pressure Reduction Installation will be a vital part of a 316 kilometre pipeline transporting gas from the Milford Haven liquefied natural gas terminals into the National Gas Transmission network at Tirley."
As the UK's indigenous oil and gas reserves decline, the country will become increasingly dependent on imports. Two terminals to import liquefied natural gas have been developed at Milford Haven by South Hook LNG and Dragon LNG - which allow for gas imports from as far afield as Qatar, Algeria, Trinidad and even Australia.
Pressure reduction installations help to control and regulate the flows of gas, and need to be located at strategic points to ensure the country's gas pipeline network operates efficiently and economically.
Construction of the new PRI will take approximately 18 months.
---
Notes to editors
The decision followed an appeal by National Grid against the decision by Tewkesbury Borough Council's decision to refuse planning permission. A public local inquiry was conducted by David Tester CChem MRSC C.WEM FCIWEM, which opened on 13 July 2010 and sat for 8 days. The Inspector submitted his report on 18 October 2010 and recommended that the appeal be allowed and planning permission granted.

The Secretaries of State agree with the Inspector's recommendation. The reasons for this decision are set out in their Decision Letter with detailed background in the Inspector's report, available on the DCLG website at:
http://www.communities.gov.uk/planningandbuilding/decisionsplanning/secretarystate/recentsecretary/
In essence, it was concluded that the factors weighing in favour of the proposal in terms of securing and maintaining diversified and competitive gas supplies outweigh its short term shortcomings in terms of harm to the character and appearance of the countryside, and that there are no material considerations of sufficient weight which would justify refusing planning permission.]

The Secretary of State for Communities and Local Government and the Secretary of State for Energy and Climate Change directed, under section 266(1A) of the Town and Country Planning Act 1990, that section 266(1) should have effect in relation to this appeal by a statutory undertaker to develop either operational land, or land which would become operational land as defined in the Act if planning permission were to be granted; and that it was therefore to be determined jointly by them.
Published 13 December 2010